The 37th Constitutional Convention Begins
By UAW Region Webmaster John Davis
The 37th International UAW Constitutional Convention will convene at 12:00 on Monday, June 11, 2018. The UAW Constitution outlines the rules and operating procedures for the organization. Every four years the UAW brings together representatives from each local to vote on changes to the constitution and to elect the International Executive Board. These resolutions are submitted by the membership and assembled by a resolution committee into a book that is presented to the delegates at the convention.
During the Constitutional Convention these resolutions are read to the delegates and debated on the floor. At the conclusion of the debates, delegates vote yeah or nay on the resolutions. Throughout the week a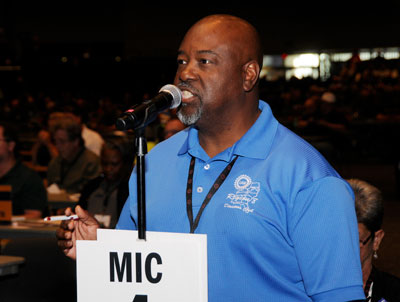 combination of speakers will provide information on economic and legislative items that could be looming down the horizon.
Since the birth of the UAW, the constitution has guided the principles of the union. Over the past 80 plus years situations have occurred that required adjustments to the constitution, same as with the United State Constitution. These debates and changes are designed to keep the organization evolving in a manner that sees to the needs of the membership.
Elections for the International Executive Board (IEB) are also part of the constitutional convention. Delegates will elect:
These discussions are often passionate, because these are passionate issues. Debates are often spirited as they should be, everyone has different ideas. Only by giving everyone a voice can we understand all sides to an issue. The UAW has long been a beacon of democracy and the Constitutional Conventions are an example of that.