NAACP PRESIDENT AND CEO DERRICK JOHNSON TELLS DELEGATES STAKES ARE HIGH IN THE FIGHT FOR LABOR RIGHTS
Derrick Johnson, NAACP President and CEO, encouraged UAW members to stay strong in the face of legislative attacks on labor and working families, "what is at stake for us is much more important than we could ever imagine."
The right to collectively bargain, Johnson said, is something that we all hold sacred and something that created and cemented a bond between the UAW and the NAACP for more than 75 years.
"Individually we cannot lose sight of why we were created and why we exist," Johnson said.
The loss of civility in this country has created space for things to creep in to divide people and create a divided house, which allows our opposition to seek opportunities to divide the labor as well as the progressive moral leadership, Johnson explained.
"We are looking at a political landscape that is snatching our future away from us," he told delegates.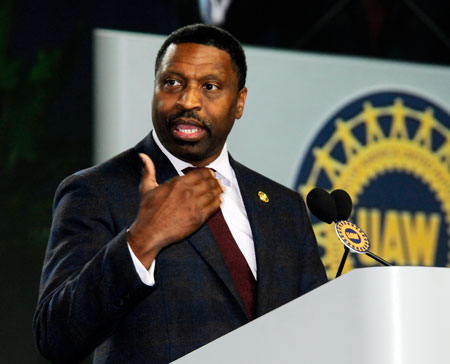 As world leaders, our duty is to ensure that our children have a better future than we had, that we make sure the elderly are provided for, and the rights of the disadvantaged are protected.
"We are now living in a political landscape where germinating from the White House is some of the most divisive language and policy we've seen in over 50 years," said Johnson. "It is the responsibility of the NAACP and the UAW and all of us who understand our purpose, to turn it off."
Division, he added, keeps us from organizing, protecting collective bargaining rights and building a better future for our families. "What we face is like playing a team sport," said Johnson. "If we are on the field and in sync together, we win."