Day Four Report From the 37th International Constitutional Convention
by UAW Region 8 Webmaster John Davis
Day Four of the 37th Constitutional began with the induction of the new International Executive Board. We in Region 8 were especially proud to watch our former Director Ray Curry be installed as the International Union Secretary Treasurer. Following the induction new International Secretary Ray Curry took the podium to introduce the new International UAW President.
The next speaker of the day was the Reverend William Barber. William J. Barber II is a Protestant minister and political leader in North Carolina. He is a member of the national board of the National Association for the Advancement of Colored People and the chair of its Legislative Political Action Committee. Reverend Barber leads the "New Poor People's" campaign, which focuses on a moral agenda based on fundamental rights of the poor and the dispossessed. (click here for more on Reverend Barber's address)
"Fifty years ago Dr. Martin Luther King, Jr. started the Poor People's Campaign working to help those in need, by organizing and encouraging them to join unions," Reverend Barber stated. "Instead of heeding Dr. King's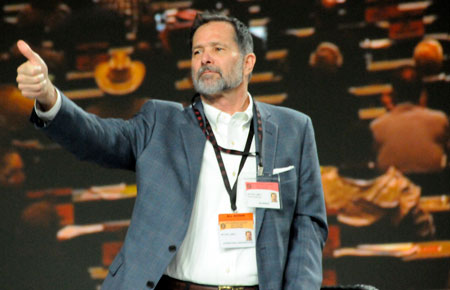 message they killed him.  We are rebuilding the Poor People's Campaign to do something about poverty in this country. Across the country we have states that have huge percentages of poverty. Unfortunately many of those states are ones with the highest number of Christian Conservative.  As a preacher of the Word, I am a Christian Conservative- I believe in conserving those 2500 passages in the Bible that mention the poor.
In Luke, he talks about the poor. In the original Greek text, the word for the poor is ptochos which literally translates one who works for his daily bread and so has reference to a laborer who works for a living earning a small meager wage."
The final resolutions concerned diversity and equal opportunity, health and safety in the workplace and supporting our troops and honoring our veterans. The UAW has always been a stanch supporter of all three action items and these new resolutions reaffirmed the UAW's commitment over the next four years.
As time wound down, the convention came to a close with the traditional singing of "Solidarity Forever."