Pro-Labor Friends Fire Up Delegates With Hard Facts, Inspiration And Dedication
Delegates heard from a variety of speakers from pro-labor organizations on the second day of the UAW's 36th Constitutional Convention, all with messages about the status of rebuilding the middle class in the United States, the need to fight back against powerful anti-worker forces in corporate and government sectors and how the UAW always has been, and continues to be, the nation's primary voice for the rights of working men and women.
Kicking off the day's busy schedule was speaker Heather McGhee, president of the Washington-based, pro-worker advocacy group Demos. "America's greatest invention wasn't the light bulb but the greatest middle class the world has ever known. We wouldn't have a middle class if it wasn't for the men and women of the UAW," said McGhee.
Heather McGhee: Big money in elections erodes democracy.
"The middle class is under attack. Wages haven't kept up with productivity," she said. The only way to have a middle class that's inclusive of all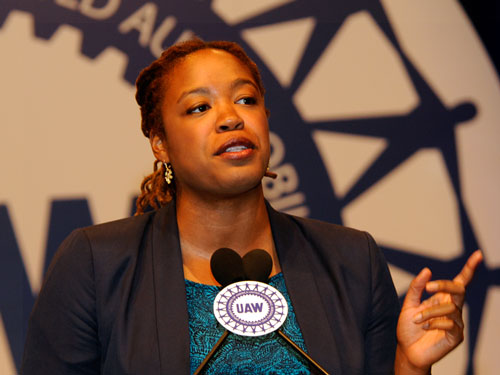 U.S. workers and have a middle class "that looks like America," said McGhee, "is if the UAW is strong enough to lead that fight. UAW, we needyou," she told the cheering, supportive delegates.
McGhee said the role of big money in elections has been eroding democracy, making it even more important that the UAW remain the most effective lobby in Washington for a strong middle class. "That's why America needs you," said McGhee. "It needs you to seize this moment. It needs to wake up and see you winning in solidarity," she said.
McGhee said the meaning of her organization's name, Demos, is ancient Greek for the people of a nation. She views America's workforce also as a Demos. "That's the very ideal we are fighting for right now, for a nation with a destiny to be forged by people who stand truly united by a dream of real freedom," said McGhee.
Mary Kay Henry: Fiery speech rocked the house.
Speaker Mary Kay Henry also had an inspiring, heartfelt message for delegates: "If my father was alive today, he would be busting a gut with pride," said the International President of the Service Employees International Union (SEIU). Henry took the stage today proudly wearing her union's colors as has become her signature style. Wearing her union's purple, she rocked the house with a fiery speech that challenged our union, other unions and union activists to join together in the fight for equitable living wages for all workers. She called for solidarity among workers in the auto industry, and for home and health care and fast food workers to be the foundation of the next middle class.
Reminiscing about her Motown roots Henry said, "I can remember growing up here and my father saying night after night, watch the UAW lead and build the strongest American middle class that we've seen in our generation." With her mother in the audience, for Henry it was a moment of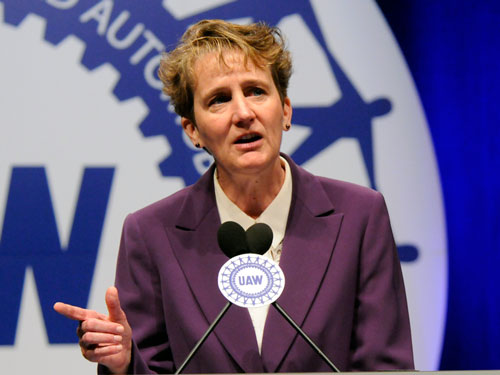 coming home and a moment of celebration and solidarity. More than once, Henry borrowed the UAW's theme of the convention "It's Our Time." By the end of her speech when she had the crowd on their feet, she'd hit a home run.
For Lesley Finch, 29-year UAW Local 2300 member and Cornell University worker, it was a reminder that being a strong woman isn't an anomaly. "I get excited," said Finch. "The speeches and debates energize me, and the social and economic justice issues are important to me. It revives me to fight the injustice that's out there," said Finch, a benefits representative for her local in Ithaca, New York. "That's what the UAW has always been about: social justice."
Henry showed a video about the fast-food workers organizing campaign, Fast 15, where workers are fighting for better working conditions and higher wages of $15 an hour. Henry said if wages remained stagnant, by year 2020 half the country's jobs are going to be poverty level jobs.
Jim Stanton of Local 1112 at GM in Lordstown, Ohio, the UAW's future and that of all workers is all about increasing union membership. For the UAW, that means organizing southern auto plants. "No. 1 is organizing the automotive transplants. They drag down wages, not only in car plants, but in supplier plants as well. If we don't, it will become increasingly difficult to bargain for better wages and benefits for many of our members," said Stanton.
"It is our time to stand up in the fight for $15 an hour and a union. We have to fight for what's right. It's not just going to be handed to us," said Henry. "We want collective bargaining restored across the country to make bad jobs good jobs. That's how we get this economy back on track."
University of Pennsylvania Wharton School Professor of Legal Studies and Business Ethics and UAW Public Review Board Chairperson Janice Bellace also spoke as the leader of the UAW Public Review Board (PRB) that she says is still abiding by the values outlined when the board was founded in 1957 under the leadership of Walter Reuther.
Established at the UAW's 16th Constitutional Convention, the PRB exists to ensure "… high moral and ethical standards in the administrative and operative practices of the International Union and its subordinate bodies, and to further strengthen the democratic processes and appeal procedures within the union as they affect the rights and privileges of individual members and subordinate bodies." The PRB, with the Convention Appeals Committee, is the final appellate authority for the UAW including complaints about the UAW's adherence to its Ethical Practices Codes.
During the day's proceedings, UAW President Bob King acknowledged the longstanding pro-labor career of Michigan Congressman John Dingell who is retiring from Congress after serving for six decades, longer than any other member in the history of Congress. Dingell was honored for being a leader in advocacy on a variety of issues including national health insurance, consumer protection, the environment, labor and the domestic auto industry.
The honorary resolution expressed the UAW's deepest gratitude and respect to Dingell for his unprecedented years of service and the scope and breadth of his accomplishments, particularly on behalf of working families. Job well done, Congressman Dingell, and thank you Heather McGhee, Mary Kay Henry and Janice Bellace for standing with the UAW and workers everywhere.
Joan Silvi and Gwynne Marie Cobb