04-28-13
Worker Memorial Day 2013

UAW Members Killed On The Job In 2012 Were:

n On Feb. 21, Lance Byers, 42, an eligibility specialist with the Michigan Department of Human Services in Grand Rapids, Mich., and a member of UAW Local 6000, was ambushed on his way to work. Jeanette Davis fired a single shot into his chest from less than 15 feet away with a .25 caliber semi-automatic pistol. Four days before his murder, Byers had completed a food stamp redetermination for Davis and approved her case with increased benefits. She was convicted of second-degree murder and faces life in prison.
n On June 26, Phil Niewiadomski, 52, a crane rigger with 15 years' seniority at the General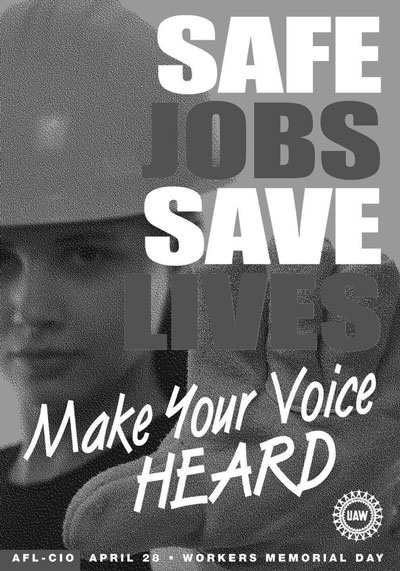 Motors (GM) Parma (Ohio) Metal Center and a member of UAW Local 1005, and the second-shift team of four riggers had set down a die in a die storage field. An overhead cab-operated crane was being used with a four-legged synthetic sling. A single leg of the sling was still attached when crane motion started and the die slid across the floor, crushing him between the moving die and a stationary die.
n On Sept. 20, Keith Readus, 43, a production worker with 18 years' seniority at Chrysler's Jefferson North Assembly Plant in Detroit and a member of UAW Local 7, was killed by his co-worker Jeff Hunt, 40, also with 18 years' seniority and a Local 7 member. Readus was working overtime in the Pick and Pack Department, and witnesses said Hunt drove back through the area five times staring at Readus. As Readus was talking to co-workers on the dock, Hunt approached and stabbed him. Hunt left the plant and was later found at a nearby park, dead from a self-inflicted gunshot wound.
n Brian Gilbert, 52, was a machine repairman with 29 years' seniority at GM's Bedford (Ind.) Foundry and a member of UAW Local 440. On Oct. 10, Gilbert and Emerson Hall were working on a floor-mounted scissor lift table referred to as a cart lift. They completed the work, and Gilbert removed the safety chocks. The lift table fell, pinning him under it. The table struck Hall in the back of the head, and he suffered a concussion. Gilbert died from his injuries Oct. 22.
n Eric McKinney, 26, was a production worker with seven months' seniority at INTAT Precision Inc. in Rushville, Ind., and a member of UAW Local 2339. He worked third shift in the molding department of a ductile iron casting operation. McKinney was cleaning a sand cooling machine, which is normally shut down for cleaning on Saturdays during third shift. On Dec. 22, a Saturday, production stopped at 1:30 a.m. McKinney was working alone when he entered a compartment of the machine through a 2-foot-by-2-foot access door to clean casting material buildup. His wife reported him missing that afternoon when he did not come home from work. He was found crushed inside the machine at 1:15 p.m.