04-27-2013
Local Labor Unions to Rally in Chambersburg to Stop the Attacks on Working Families
Labor unions from across Franklin County, PA were joined by community members and leaders for a march/rally on a cold and windy Saturday,(April 20, 2013) in Chambersburg, PA. Focused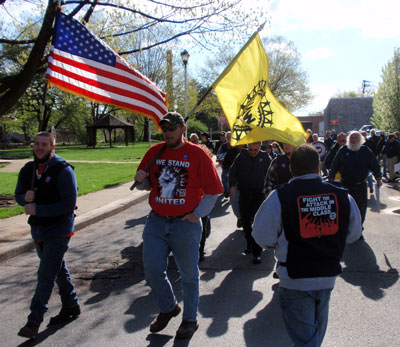 on the theme, "Stop the Attacks on the Working Class"; the day began with a rally at 9:00 at the Coyle Library, followed by a "Stand Up for Working Families" march from the library to Chambersburg's Founder's Park. 
At the park a series of speakers discussed the economic and political challenges facing working families in Franklin County and America today including the much talked about Right –To-Work Legislation that is being introduced in the state house.
Event organizer Todd Scott, President of Waynesboro's United Auto Workers Local 1296, saw the program as a great opportunity to bring together union members and community members who are concerned about the challenges facing all working families.  Speaker after speaker raised the concern of the shrinking wages and the more difficult struggles facing working families.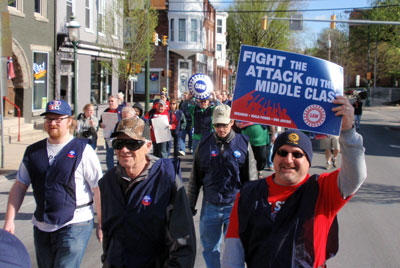 Region 8 Director Gary Casteel released the following statement after the rally, "I commend Brother Scott for his dedication to the labor movement and organizing this rally but more importantly his involvement in making PA a better place to live for working families, thank you on behalf of the UAW."
Region 8 UAW wishes to thank all of the unions who participated, which included UAW Local Unions from Hagerstown, MD and Martinsburg, WV.