Updated September 17, 2013
Retired Region 8 Director Bobby Lee Thompson Passes


Retired Region 8 Director Bobby Lee Thompson passed away on Sunday, September 15, 2013, at his home after a short battle with pancreatic cancer. Originally from Westminster, Maryland, Director Thompson was 76 years old. He passed peacefully, surrounded by his wife and children.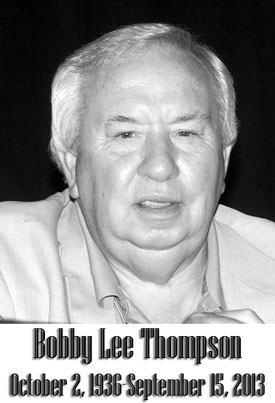 Bobby was born on October 2, 1936, in Konerock, Virginia. He worked for United Auto Workers for 48 years before retiring to St. Petersburg, Florida. He was a devoted leader with the Masonic Lodge Temple. He enjoyed golfing, bowling, boating, and spending time with his family.


He is survived by his wife, Francene Thompson, of St. Petersburg, Florida; his two sons, Robert L. Thompson and Roger L. Thompson, both of Hanover, PA; his daughter, Jeanne L. Thompson, of Manassas, Virginia, as well as his step-daughter, Sherri Dunn, of Canton, Ohio. He has six grandchildren; Rachael L. Thompson; Whitney L. Thompson; Liam D. Thompson; Kate Dunn, Grace Dunn, and Emma Dunn. He will be missed by all.


Visitation will be held on Friday, September 20, 2013, from 6:00-8:00 p.m. at Lewis Mohn Funeral Home, 9700 Seminole Boulevard, Seminole, Florida.


The funeral service will be held at 10:00 a.m. on Saturday, September 21, 2013, at Park Street Baptist Church, 3901 Park Street North, St. Petersburg, Florida, with Pastor Dan Jeffers officiating.
Flowers are welcome as well as donations in Bobby's name to the American Cancer Society.
The family wishes to extend their gratitude to SunCoast Hospice of Florida for their support in his final days.
Funeral Service Schedule:
Visitation:
Friday, 9/20 6-8pm Lewis Mohn Funeral Home
9700 Seminole Boulevard
Seminole, FL 22772
Saturday, 9/21 10:00am Park Street Baptist Church
3901 Park Street North
St. Petersburg, FL 33709


Visitation:
Friday, 9/27 Pritts Funeral Home
412 Washington Road
Westminster, MD 21157
Saturday, 9/28 Pritts Funeral Home
412 Washington Road
Westminster, MD 21157
Bobby Lee Thompson was first elected Director of UAW Region 8 by acclimation at a Special Convention held on April 19, 1991 in Raleigh, North Carolina. Thompson, who had served as assistant director since his appointment to that post on July 29, 1984, succeed George H. Smith who retired.
Thompson had been a member of UAW Local 435 since January 11, 1954, when he hired in as an assembler at the General Motors assembly plant in Wilmington, Delaware. While advancing to a job classification has an inspector, Thompson also quickly became active in the Union, serving Local 435 as chairman of the election committee, trustee and committeeperson at large. The was elected recording secretary of Local 435 in 1972 and served in that post until 1975 when he was elected president of the local union.
In addition to his responsibilities as local president, and office in which he served until mid-1978, Thompson was elected chairman of then - Sub-Council 7A, representing UAW-GM assembly facilities in the United States from 1975 to 1976. He served as a member of the resolutions committee for the UAW's 1976 Special Collective Bargaining Convention.
Bobby Lee was appointed as an International Servicing Representative on June 25, 1978, with servicing assignments for General Motors and independent part suppliers in Delaware and Maryland. He earned recognition as an able advocate for workers in the field of independent arbitration. In November of 1983 he was named Delaware area director for Region 8, working closely with UAW Community Action (CAP), Retired Workers and Civil Rights Councils. Thompson also served as Region 8 Skilled Trades Coordinator before being named Assistant Director in 1984. He went on to serve three terms as Region 8 Director before his retirement in 2002. As Director of Region 8, Bobby Lee facilitated the relocation of the Region Office to Lebanon, Tennessee to make the headquarters more centrally located within the region.
Following his retirement he was active with retiree activities around the region, eventually relocating to St. Petersburg, Florida, living there with his wife Fran until his death. Bobby Lee was known for his humility and friendly demeanor, which placed everyone around him at ease. He never forgot his humble upbringing in Virginia and always spoke fondly of the simply country values that helped shape the union leader he would become. He will be missed by family, friends and acquaintances.
Complied By UAW Region 8 Webmaster John Davis