UAW Region 8 Assistant Director George Palmer
George started as a vehicle assembly technician in April 2000 at Ford Kentucky Truck Plant (KTP) in Louisville, KY. After working several months as a temporary part time (TPT) employee, George was hired to a full-time position in June 2000 and became a member of UAW Local 862. In October 2000, he and approximately 200 other UAW members were laid off but were able to transfer to Ford Louisville Assembly Plant (LAP) in Louisville, KY. At LAP, George learned various jobs in the chassis department until he became an engine decker.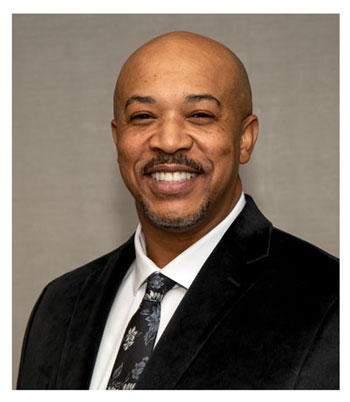 After working on the assembly line at KTP & LAP, George was elected to be a District Committeeperson in 2002. He was elected for three consecutive terms as a District Committeeperson while working at LAP. As a Committeeperson George represented every department in the plant at some point during his three terms and worked on both day shift and night shift. In 2009 LAP had reduced the workforce by eliminating a shift with an indefinite layoff and was laid off once again. Due to language in the collective bargaining agreement, George was able to return to KTP in July 2009 and worked on the assembly line in the chassis department. In September of 2009, George was elected to the Executive Board of UAW Local 862 as a Trustee. From 2000-2010, George served UAW Local 862 members in various capacities also while volunteering in the community for numerous worker related activities to help elevate the middle class.
In February 2010, then UAW Region 3 Director Mo Davison appointed George to be an International Representative with the approval of then UAW President Ron Gettelfinger. He was a Servicing Representative in Region 3, servicing Kentucky and Indiana. His assignments included various Independent Part Suppliers, Aerospace, Agriculture, Gaming & Automotive facilities (Tropicana Casino, PGW, AK Steel, Internal Honing, Ford Motor Company, CC Metals and Alloys, Icon Metal Forming, IET Global & DSM Engineering Plastics).
The UAW restructured Region 3, as a result George was assigned as a Servicing Representative in March 2012 by then UAW Region 8 Director Gary Casteel. Director Casteel and then Assistant Director Ray Curry gave George an organizing assignment in Canton, Mississippi. Upon George's return to Kentucky in 2013, he had several union organizing efforts throughout the state. In Kentucky, George successfully organized Faurecia Interiors and Piston Automotive (Local 3058) both whom which he negotiated their inaugural collective bargaining agreements. Later in 2013 he resumed assignments as Servicing Representative and continued to have organizing drives simultaneously in Kentucky.
His assignments as a Servicing Representative in Region 8 included a multitude of responsibilities which included but not limited to grievance meetings, lead advocate for arbitration and lead negotiator for contract negotiations. In Region 8 George's assignments from 2012 - 2022 included numerous locations that varied from state to state (Ford Motor Company, Eurest, MPS, USA Sorters, Dana Corporation, Magna Seating, Waste Management, Dakkota Integrated Systems, Aramark, Faurecia Interiors, Faurecia Seating, Penske Logistics, Piston Automotive, Martinrea Heavy Stamping, Brown-Forman Cooperage, Sylvania, CC Metals & Alloys, TRW, Carlex, Fisk University,  Hennessy Industries, Kentucky State Workers, Continental Motors, Jones Lang LaSalle, General Motors, Inteva, Archer Daniel Midland, Daimler PDC, Siemens, Yanfeng, Volvo PDC, Trane, International Automotive Components, Rocore, Metalsa, Rane Light Metal Castings Inc., Johnson Controls & Sylvania). George has also served on the Kentucky AFL-CIO Executive Board.
On December 12, 2022, UAW Region 8 Director Tim Smith appointed George to be UAW Region 8 Assistant Director. "I am honored and grateful for this wonderful opportunity given to me by Director Tim Smith, I feel it is a privilege to serve our UAW members in this capacity and I am excited to continue to represent our members in all 17 states within Region 8 plus throughout the country."
George has volunteered in his community, West End of Louisville, KY doing a variety of efforts. He has mentored young adults, assisted with job placement, worked with the A. Philip Randolph Institute driving voters to the polls so they have an opportunity to vote on Election Day and also youth sporting events assisting in various capacities.
George graduated in 1994 from Pleasure Ridge Park High School in Louisville, KY and was a member of the concert and marching band. While playing the trumpet in the concert band and playing the snare drum in the percussion section, the band won several awards for their performances including participating and placing in state awards.
George is a member of First Trinity Missionary Baptist church where he was baptized at age 12 and has been a dedicated member there for over 35 years. His mother, Bessie M. Palmer had him singing gospel music as a youth at his home church and also with the Louisville Gospel Choral Union.  George is a 25+ year member of the National Convention of Gospel Choirs and Choruses, Inc. George was named after his father, George P. Palmer, Sr. He is commonly known by his family as "Lil George."  He credits his father for his hard work ethics as his father is a retired Steel Worker with 45 years of dedication to the union. George enjoys spending precious time with his family, basketball & football (his favorite team is the University of Louisville Cardinals). He also enjoys creating graphics designs as a hobby.
George has two daughters, Ciera Palmer, and Taysia Palmer. He has a granddaughter, London which he loves dearly. George currently resides in Louisville, KY.