June 29, 2023
Day Five 2023 UAW Region 8 Summer School
text and photos John Davis
The final day of UAW Region 8 Summer School began with a morning session that included an update from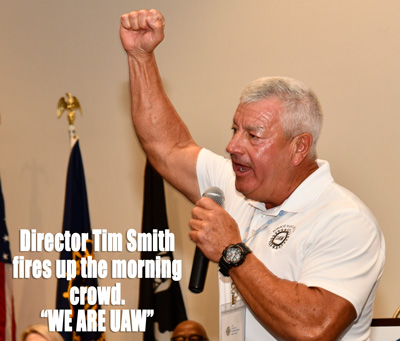 UAW Region 8 Director Tim Smith.
After VCAP drawings, the morning began with a presentation by the Teenage Class. Last year this class was established to give the teenagers in attendance with their parents, a chance to learn about the UAW. Retired Region 8 Rep Tom Savage and LUDL Jeff Thomas taught this class and lead the discussion. "We had 15 teenagers in our class this week and it has been fantastic," Savage stated. "They came away with a better idea of what the UAW is, what it does and how their parents play a role in that. This group has been outstanding and it gives me hope for our movement in the future." Several of the students spoke about their experience this week and thanked the instructors for their help.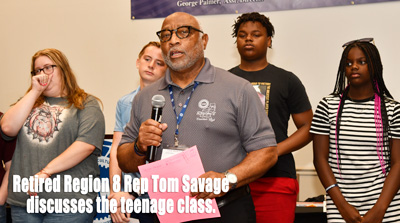 UAW region 8 AD George Palmer introduced Local 862 member Marcus Edwards. Marcus was at UAWRegion 8 Summer School a few years ago and became ill. His kidneys were failing and he ended up in a serious health situation. He was donated a kidney from a person he didn't know who saw a piece on his condition. Marcus thanked her publicly and encouraged everyone to be an organ donor.
Cassandra Shortridge, Administrative Assistance of the UAW President's Office was on hand and brought greetings for the President's Department. AA Shortridge made a presentation on the UAW Policy for Representation and Appeals.
Assistant Director George Palmer made the introduction of UAW Region 8 Director Tim Smith. "I want to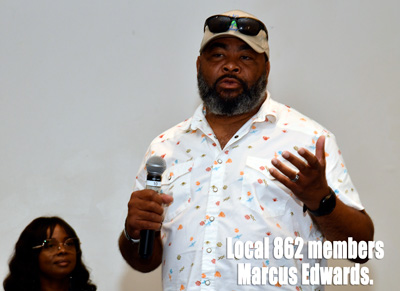 introduce you to a man that works hard for you every day," AD Palmer said. "He not only works for you he prays for you every day with me. He is a man that has your best interest in his heart."
"I wake up every morning passionate about representing your interest," Director Smith said. We are going to stand strong together. Local 171 just ended a 200 day strike. They stood strong, no one crossed the picket line. They made great gains in wages and pensions.
This fall we open negotiations with the Detroit Three, following years of record profits. We will stand strong in these negotiations. We don't want to strike but we will if we have to. Our members are the highest authority and we will represent your interest.
Our schedule for next year includes:
Leadership – Louisville, Kentucky April 8-12

Retiree Conference – Bilmar April 22-26

Summer School - Tradewinds June 23-28

Standing Committees – Tradewinds August 19-23

Spring Cap March 11-14
In Region we have over 50,000 active members and 50,000 retired members. We have a great staff in Region 8. I love them and thank them for what they do. We have a lot of members in Region 8 that work for the Detroit Three. We have seen huge investments by GM at the Arlington Plant in Texas where our members at Local 276 work. At Local 862 in Louisville, Kentucky, Ford just made a massive investment in the Kentucky Truck Plant.
We just won an organizing victory in El Paso, Texas. We are working on several other locations in Texas at this moment. We will find victories at these locations. These battery plants across the region will be organized and we will win.
"When we organized my local plant I was proud to put that UAW shirt on. It changed my life and you know as well it has changed your life. It is an honor for me to represent you at the IEB and the companies. I want to thank you all and tell you how much I appreciate you all"
The 2023 Summer School broke for lunch and then resumed classes in the afternoon. This Summer School has been an outstanding educational experience for the 275 delegates sent by the local unions. The staff of Region 8 did an outstanding job planning and presenting the information and UAW Region 8 Director Tim Smith and Assistant Director George Palmer did their usual outstanding job of making people feel welcome.