November 13, 2023
Local 2195 Hold November Meeting-
UAW President Emeritus Ron Gettelfinger Swears in New Officers
Local 2195 held their November meeting on Monday November 13, 2023. The meeting featured our holiday meal and the swearing in of our new officers. Officers for the next three years are:
Retiree Chair - Chuck McDonald

Vice Chair - Ken Garner

Recording Secretary – Pat Smith

Chaplin – John Hawkins

Activities – Lou Adams
On hand to swear in the new officers was UAW President Emeritus Ron Gettelfinger. Beginning his career in 1964 at Ford Assembly in Louisville, Kentucky, he served as committee man, bargaining chair and president of Local 862. He went on staff in Region 3 and served as the Region 3 Director. In 1998 he was elected International Union Vice President and was assigned the responsibility for the Ford Department. In 2002 he was elected International UAW President and reelected in 2006. During President Gettelfinger's tenure he negotiated the VEBA which saved retiree health care during the bankruptcies. He also lead the union through the automotive crisis protecting the earned retirement benefits of our members and preserving jobs for another generation of America's automotive workers.
"I am proud to be here with the members of Local 2195 today," President Gettelfinger stated. "I was proud to have served this membership and appreciate the support you afforded me during my tenure."
Following the oath of office for our new officials, UAW Local 2195 Chairman was recognized with a plaque from the membership. The plaque read: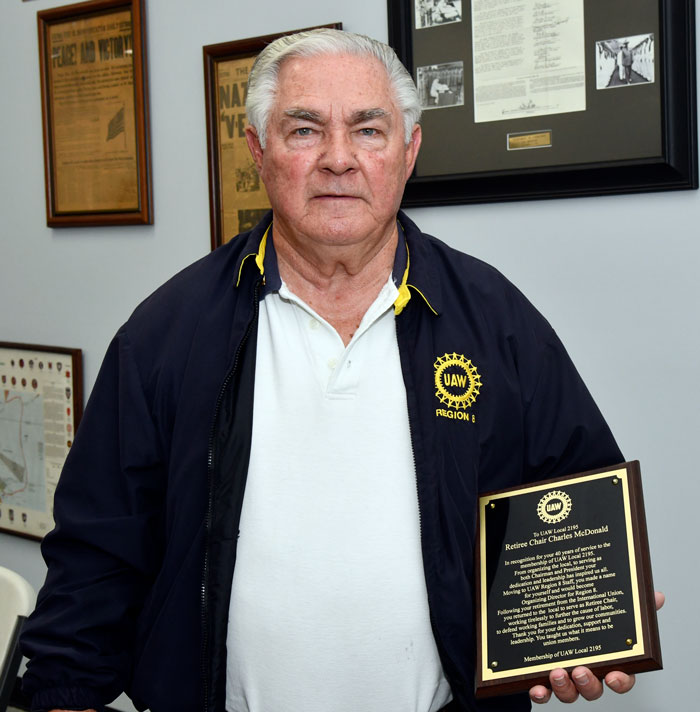 To UAW Local 2195 Retiree Chair Charles McDonald
In recognition for your 40 years of service to the membership of UAW Local 2195. From organizing the local, to serving as both Chairman and President your dedication and leadership has inspired us all. Moving to UAW Region 8 Staff, you made a name for yourself and would become the Organizing Director for Region 8.
Following your retirement from the International Union, you returned to the local to serve as Retiree Chair, working tirelessly to further the cause of labor, to defend working families and to grow our communities. Thank you for your dedication, support and leadership.
You taught us what it means to be union members.
Membership of UAW Local 2195
The meeting was suspended for our holiday meal, following which a representative from the VEBA Trust was on hand to cover improvements to our health care for next year.
Retiree Chair Chuck McDonald gave his report to the membership. Including good and welfare. Lastly the drawing was held for money provided by Lynn Layton of Lynn Layton Chevrolet. The meeting was then adjourned. The next Local 2195 Retiree Meeting will be on Monday, December 11, 2023.