August 2, 2023
UAW Local 2406 Loses Member Mary McNary

UAW Local 2406 has lost a stellar member in Sister Mary McNary (July 10, 1960-to June 30, 2023), but I have truly lost a sister. For over 17 years, we built a sisterhood that was a family bond. Through the ups and downs; thick and thin; heartache and life challenges, Mary was always there for me.
Mary's dedication to her UAW family was no different. She was the chairperson for our Women's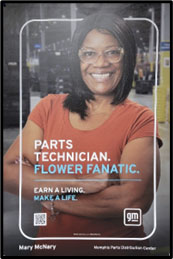 Committee for 14 years. Mary spearheaded many charitable efforts from UNCF, St. Jude Children's Hospital, United Way, MIFA, and Angel Tree. The list goes on and on. She was always going the extra mile to support our membership and community. From collecting donations for bereaved families to delivering fruit baskets to the elderly, Mary's selfless acts of love will forever be cherished.
Rest well my dear, sweet sister!
If Roses Grow In Heaven
If roses grow in Heaven Lord, Please pick a bunch for me.
Place them in my Sister's arms and tell her they're from me.
Tell her that I love and miss her, and when she turns to smile,
Place a kiss upon her cheek and hold her for awhile.
Because remembering her is easy, I do it everyday,
But there's an ache within my heart that will never go away.
In Loving Memory Of My Sister

Tribute for Mary McNary
by Kimberly Reed