September 25, 2018
UAW Secretary-Treasurer Ray Curry Receives AFL-CIO PR Latta Award
by UAW Region 8 Webmaster John Davis
UAW International Secretary-Treasurer, Ray Curry, was the recipient of the prestigious PR Latta Award, given by the North Carolina AFL-CIO. The PR Latta Award is given in honor of the late PR Latta, a member of the Communications Workers of America, who passed away in 2014 at the age of 95. Latta was the long-time president of CWA Local 3511 in Raleigh, North Carolina. "P.R. Latta was a true trade unionist – someone committed to building his own union while supporting other workers' efforts to raise wages and lift workplace standards," said North Carolina State ALI-CIO President, James Andrews. "Throughout his life, P.R.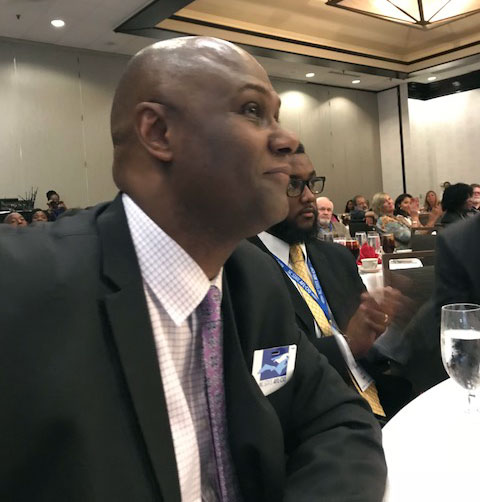 committed himself and his considerable talents as an organizer to advancing democracy both inside and outside the workplace."
On September 20, 2018, UAW Secretary-Treasurer, Ray Curry, was presented with the award at the 61st Annual North Carolina State AFL-CIO convention in Raleigh, North Carolina. "Ray's first priority is making sure working people have a voice and get fair treatment on the job. I know that no matter where Ray is or how high he rises, he will never forget his roots and the working people of North Carolina. Ray sets an example for all of us through his selfless leadership and tireless dedication to workers in North Carolina and beyond," said MaryBe McMillian, President of the North Carolina AFL-CIO.
Ray Curry was elected International Union Secretary-Treasurer at the Constitutional Convention this summer in Detroit, Michigan. Ray is a native son of North Carolina, member of UAW Local 5285, a UAW Constitutional Convention delegate, chairperson of the trustees, financial secretary-treasurer, and alternate committeeperson. He also served as chairperson of the UAW North Carolina State Political Action Committee, executive board vice president of the North Carolina AFL-CIO, and as a UAW member organizer on the 2003 and 2004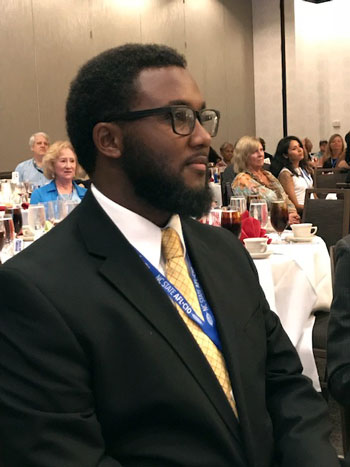 Freightliner organizing drives in Cleveland, Gastonia, and High Point, North Carolina.
Ray was appointed to the International Staff by UAW President Ron Gettelfinger in 2004, working as a servicing representative. He was responsible for collective bargaining, arbitration, organizing, political action, and other bargaining-unit assignments. He was appointed Region 8 assistant director and was elected Region 8 director in 2014. Ray is the 2017 recipient of the A. Philip Randolph Leon Lynch Lifetime Achievement Award as well as the 2017 recipient of the Tennessee State AFL-CIO Presidential Award.
"We in Region 8 take a lot of pride in Ray Curry. His integrity and activism is an inspiration to us all. Ray has given so much to others and is always there when a need arises. We applaud the North Carolina AFL-CIO for recognizing Ray Curry with this prestigious award," states UAW Region 8 Director Mitchell Smith.