July 22, 2016
2016 UAW Veterans Ride For Freedom Truck
UAW Local 2069 and the Volvo truck plant in Dublin, Virginia were honored by a very special visitor on June 17th, 2016.
Hershel Woodrow Williams, know more affectionately as "Woody", the last living Medal of Honor recipient from the battle of Iwo Jima and one of only six living recipients from all of WWII, and members of his family came visiting the New River Valley in Southwest Virginia.
Mark Peterson local 2069 veteran's committee chairman and Region 8's NVAC representative explains what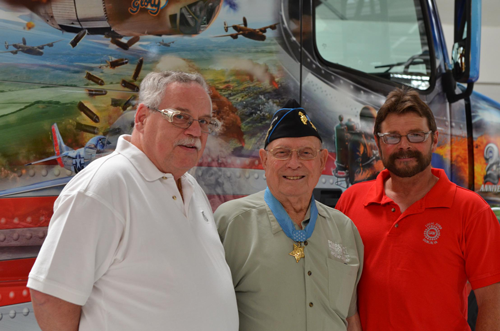 set up this event.
"Each year our veterans committee designs what we call "UAW Veterans Ride for Freedom Truck" we have a long history of great support from our employer Volvo Trucks with this project. This class 8 truck is designed with a veterans or military theme in mind that is to be educational, thought provocative and has some sort of healing aspect to the viewer. The truck is used during the year in parades, at schools, the V A Hospital and other patriotic events. The past few years we have displayed the truck during the UAW National Veterans Conference in Black Lake Michigan. This year Woody is scheduled to visit our National Veterans Conference, along with some of the original Tuskegee Airman, the thought this year was to honor these great American icons and pay tribute to their service with some elements of themselves and their service designed in to the theme. In Woody's case this would be a WWII flamethrower Marine, which was Woody's weapon he earned the Medal of Honor with, originally I thought I wouldn't see Woody till the fall.
"With a friendship already built Woody was coming to our area to kick off a fund-raising endeavor that the veterans committee and other community veterans are heavily involved in; building a Gold Star Families Memorial Monument that Woody's foundation sponsors.
 Vice President and General Manager of the Volvo Truck facility, Franky Marchand having learned the why's and how's of this year's Ride for Freedom truck design and learning that Woody was coming to town eagerly accepted the idea of shutting the plant down for both production shifts for Woody to address the entire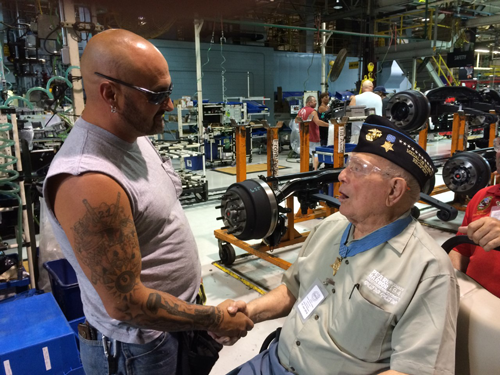 workforce.
Volvo provided a great luncheon, the company and union leadership was on hand to greet Woody and break bread.
After lunch, we took Woody to the area where the Ride for Freedom truck was being displayed for him and it was priceless to see the surprised look on his face, he absolutely loved it and was thrilled to have such a tribute in honor of him. The smile on his face and the hug I received was full of love and joy. Priceless!!  I gave Woody and his family a tour of the plant where everyone greeted him with salutes, handshakes, hugs and a few kisses.
After the tour, lot's of picture taking, more handshakes and hugs, it was time to get on the stage and address the people. The plant manager, Franky is from France and a couple of years ago became an American citizen, he had some very heartfelt comments about becoming a U.S. citizen and how proud he was of this day and of what our WWII Veterans meant to him, his parents and grandparents; as he was raised knowing the history of the American soldier. The plant manager introduced me; I gave short history of the Medal of Honor and then introduced Woody; with 1000 + co-workers on each shift everyone erupted in cheers and applause, but as he spoke you could of heard a pin drop.
Woody naturally did a marvelous job, giving a little history about himself, about the Gold Star Families Memorial and about patriotism and freedom, he talked a little about the war and about our military today; he talked about the pride in our work and how honored he felt in the way he was welcomed.
Peterson continues "I met Woody a several years ago, I always revere any occasion where I may get to see him, just 2 years ago; Woody was a guest of Region 8 at Black Lake during our 2014 UAW Veterans Conference; he stayed 3 nights and charmed us all; was the highest rated speaker during the week and participated in our classroom workshops as well.  He amazed the delegates with his story, his charisma, his wit and love of God and Country. Now at age 92, Woody is in great shape and has more spunk and determination than most half his age. Woody loves the UAW and remembers and appreciates how well he was taken care of during his first visit to the UAW Education Center.
 With over 16 million men and women serving in WWII, it is estimated approximately every three minutes a memory of World War II—its sights and sounds, its terrors and triumphs—disappear. Yielding to the in-alterable process of aging, the men and women who fought and won the great conflict are now mostly in their 90s. They are passing on quickly—at the rate of approximately 430 a day, according to US Veterans Administration figures.  Today just fewer than 700,000 are still with us. Of the 464 Medal of Honor recipients during WWII, over half gave their life earning it, and only 6 remain with us today.