December 17, 2015
Metalsa Offers Food Bank To Employees
Drive Helps Workers Cope With Factory's Short-Term Shutdown
By Rebecca Walter, New Era Staff Writer


About 350 workers at Metalsa, a local manufacturing plant, will be affected by a temporary shutdown at the end of December, and to lessen the blow, a food bank has been set up for employees.
A room inside the plant is stocked full of canned goods and other food products, which are available for any employee to come by and fill up a bag of groceries.


Items were donated by a local union, employees and the company.
On Monday, one of the workers was in the room filling up a bag of canned green beans, instant potatoes and pasta. This is the first year for the project.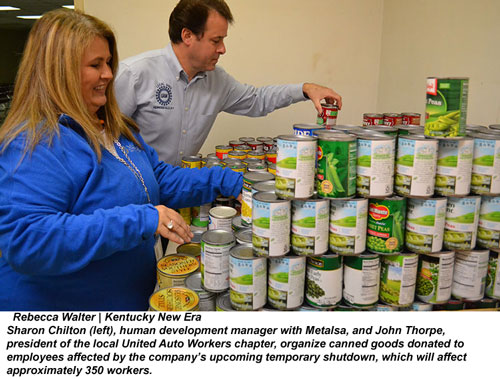 John Thorpe, president of the local United Auto Workers chapter, said the initiative started to help those affected by the temporary shutdown, which is expected to last from the end of December to the beginning of January.


"We wanted to help out as much as we can," he said.


The plant has been temporarily idled in the past, usually with it lasting a couple of weeks.
The upcoming shutdown is the result of one of Metalsa's customer, General Motors, temporarily slowing down manufacturing goods made at the local company.


Metalsa has around 650 employees, and of the 350 affected by the shutdown, some will be eligible for holiday pay, depending on how long they have worked at the plant, according to Thorpe.
Sharon Chilton, human development manager at Metalsa, said the company has also completed a Christmas toy drive. About 110 children in four counties received gifts through the program, and $13,700 was raised.


"It has been amazing to see what our employees have done in a time of need," she said.
Food items not collected by employees will be donated to a local food bank, which is still to be decided.


Those wishing to donate food items to the bank may contact Chilton at 270-887-1553.
Reach Rebecca Walter at 270-887-3241 or rwalter@kentuckynewera.com.