11/02/2015

UAW NC/SC/Virginia Civil and Human Rights Council


 The NC/SC Civil and Human Rights Council met for their quarterly meeting on Oct 24, 2015, this time the members made their way to Virginia. This meeting was a very historic meeting because the Council was about to vote on By-laws that would include the Locals in Virginia. The Council was about to grow in size with the new addition and the members were eager to accept the changes. The meeting was held at Local 2069 Union Hall.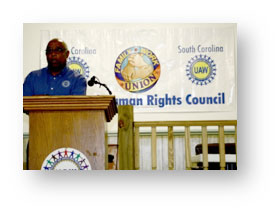 On hand for the meeting was Tom Savage, Region 8 UAW Civil and Human Rights Coordinator. President Ricky McDowell opened the meeting and introduced Tom Savage to the council members. Tom explained the importance of Civil and Human Rights Council and also how President Ricky McDowell spearheaded the structure and formation of the Council and all of its changes. Tom also recognized Ricky for helping the UAW leadership re structure the state Council cosmetic changes in other Councils in the Region as well.  Tom also made it clear to the Council, which this was, the only Council that was performing in accordance to their by-laws, stating" You have your quarterly Council meetings. "After Vice President Jeff Hicks' reading of the complete By-laws, the members in attendance overwhelmingly accepted the changes and welcomed the new locals. After the passing vote, members stood and took pictures of the old banner coming down and the new banner going up. Members clapped and stated "THIS IS HISTORY."


Members from 2069 provided the meal for the day and boy did they throw down. They had a full course meal of Fried Chicken, potato salad, green beans and extras. There were plenty of homemade desserts on hand and all the sweet tea you could drink. After a good fellowship, President McDowell thanked the Council members for their dedication to this Council. He also thanked Tom Savage and Regional Director Ray Curry for their full support. President McDowell stated, "One of our goals for Region 8, is to make sure every state Civil and Human Rights Council is active and functioning."

All members departed ways and headed back to their home locals to spread the word, that the Council is new and growing!