April 29, 2015
NC/SC CIVIL AND HUMAN RIGHTS COUNCIL NEWS
The NC/SC Civil and Human Rights Council came together April 26, 2015, for their quarterly meeting hosted by UAW Local 5287.  John Crawford, President of Local 5287 and William Strickland Chairperson Civil and Human Rights Committee, welcomed all locals.
Local unions at this council meeting gave their reports and discussed issues that are happening in their communities, our States and in the Region 8. Some of the topics were hanging of Mr. Otis Byrd, of Mississippi, 50 Anniversary Selma March, shooting of  Walter Lamer Scott, in North Charleston, SC., the fifteen dollar hour wages rally for the fast food workers. 
Speakers for this council meeting were Mr. Chris Thomason the newly elected NAACP President of Gaston County, Branch #5394. Mr. Thomason first he thanked President McDowell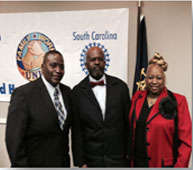 for inviting him to speak and for the coalition he has built with NAACP. He spoke on health care federal dollars for our state, minimum wages, women health, immigration, death penalty and reforming our criminal justice systems.
President Thomason introduced his Vice President Alyce McCaskill to the council and also stated that NAACP Moral Mondays' Rally will take place April 29, 2015. President Thomason gained new members for the NAACP.
Now you know at a NC/SC Council meeting there is always some down home cooking. Like always, the host Local shows out on the best meal. President McDowell had to throw in the towel for the delicious meal UAW Local 5287 provided.
Brother McDowell thanked all the local unions for their continue dedication to the NC/SC Council.  President McDowell also thanked Mr. Thomason for his informative speech and bringing the Council up to speed on the important issues at hand.
 Before adjournment, the Council set the date and location for the next meeting. The next meeting is scheduled for July 25th and will be hosted by UAW Local 2404, in Charlotte NC.