December 15, 2015
DTNA Cleveland Opens Health & Wellness Center
DTNA and UAW Local 3520 entered a new era of healthcare in November of 2015 with the opening of an on-site wellness center at the Cleveland Truck Manufacturing Plant. Together we have long recognized the major problem we mutually face with the rising cost of healthcare in the United States. The UAW supports the approach directed toward achieving cost containment while maintaining quality healthcare. The Local Union leadership feels that the wellness center is a step in the right direction and a great benefit to our members employed at Cleveland.
The Health and Wellness center will offer high quality, no cost, patient-centered healthcare for employees and their families. It will serve our membership greatly and is conveniently located, has minimal wait time and offers personal and confidential health coaching. Most of all it is an exclusive benefit for the employees and dependents 2 years old and older that have enrolled in the DTNA benefits plan, there is no co-pay or out of pocket expense charged at the center. The center is set up and equipped to be a primary care provider but does not intend on replacing an employee's current family doctor. In fact it can collaborate with their family doctor through the exchange of labs and diagnoses results to work together for better healthcare for the employee and their family.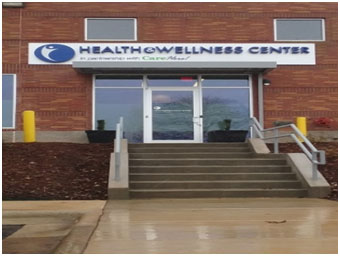 To the employees of DTNA the wellness center is theirs and theirs alone. The Wellness Center will treat acute and chronic conditions such as the common cold, flu, general aches and pains along with allergies, diabetes, and hypertension. It will also provide preventive services such as annual physicals, school/sports physicals, well-woman exams and much more.  We are very excited and thankful with the steps the International Union and the company has made to bring an onsite center here to the Cleveland facility and looking forward to making this model as successful as possible while looking for ways to help in controlling the rising cost of health care.  
In Solidarity,
Corey Hill, President UAW Local 3520