Latest News From Region 8
October 21, 2019
Region 8 Participates in Appreciation Luncheon
October 16, 2019
Local 2301 Update
Local 2420 Update
Florida Sun Coast Retiree Update
October 15, 2019
Local 2301 Update
October 14, 2019
Local 2404 Update
Local 2069 Host Labor Walk
Local 2420 Update
UAW Local 298 Host Congressman Charlie Crist
Local 171 Update
October 11, 2019
Local 862 Support Local 2164 On The Picket Line
October 09, 2019
Local 2164 Strike Update
October 08, 2019
Florida Midcoast Retiree Report
Local 2404 Strike Update
Local 2164 Strike Update
East Tennessee Retiree Fall-Winter Newsletter
October 03, 2019
Local 2404 Update
September 30, 2019
Local 1590 Update
Local 2404 Update
September 27, 2019
Local 1853 Update
Local 2406 Update
Local 2402 Update
Eastern Kentucky Retiree Council Food Drive
September 26, 2019
Local 2404 Strike Update Day 8 and 10
Local 1853 Strike Update Day 10
September 25, 2019
UAW Local 2406 Update
September 24, 2019
Local 1853 Strike Update
Local 1590 Strike Update
September 23, 2019
UAW Local 2404 Day 5-6
UAW Local 2404 Day 7
UAW Local 2164 Day 7
UAW Local 2164 Day 8
UAW Local 862 and Central Labor Council Gold Outing
Florida Sun Coast Fall Retiree Report
September 23, 2019
UAW Local 2404 Day 5-6
UAW Local 2404 Day 7
UAW Local 2164 Day 7
UAW Local 2164 Day 8
UAW Local 862 and Central Labor Council Gold Outing
Florida Sun Coast Fall Retiree Report September 20, 2019
UAW Plans Solidarity Sunday
Local 239 On Strike
Local 1853 Update
Local 2164 Update
Florida Sun Coast Retiree Report
UAW Local 862 and Central Labor Council Golf Outing
September 19, 2019
IG Metall Send Support to Striking UAW-GM Members
Local 2406 Strike Update
Local 2164 Strike Update
Local 3520 Helping Out Local 2404
Local 2404 Strike Update
September 18, 2019
Local 862 Labor Day
Northeast Central Florida Retiree News
September 17, 2019
Local 2402 On Strike
Local 2404 on Strike
Local 1590 On Strike
September 16, 2019
GM Strike Day One At Local 185
September 15, 2019
At 11:59 tonight, September 15, 2019, the members of the UAW will go on strike at General Motors. The leadership of UAW Region 8 requests your prayers for our members at GM affected by this strike. As more information becomes available it will be passed along.

UAW Statement on Strike
September 13, 2019
UAW Mid Florida
Retiree Council Report
Eastern Kentucky Retiree
Council Food Drive
September 10, 2019
Local 862 Host Ambassadore Training
Local 3520, 5285 and 2404 Come Together for Labor Day Celebration
Local 1853 and Local 342 7th Annual Labor Day Celebration
September 09, 2019
IAC Retiree Council Reports
Local 2195
North West Central Florida
South West Forida Newsletter
September 05, 2019
Local 862 Riders For Heros
September 03, 2019
Local 3520 Bright Beginnings Program
August 30, 2019
UAW Local 862 Support Deployment of the Kentucky Air National Guard
UAW Local 2929 Raises Flag
August 29, 2019
Updated Region Calendar
August 25, 2019
Labor Day Message From Region 8 Director Mitchell Smith - Remembering Valentine Reuther
August 13, 2019
Ford Kentucky Truck Plant Celebrates 50 Years
August 06, 2019
July Veteran's Newsletter
August 03, 2019
Local 1853 Retirees Visit Dr. Martin Luther King, Jr. National Park in Atlanta

August 02, 2019
Local 2164 and the New Mid Engine Corvette Reveal
August 01, 2019
Link to Digital Tool Kit From UAW Region 8 Summer School

July 31, 2019
Tell The Postal Service to Honor the 50th Anniversary of The Death of Walter Reuther With A Postage Stamp
July 18, 2019
Bluegrass Central Labor Council Labor Day Picnic Planned
July 16, 2019
UAW Region Sponsors the AGJA Youth Event
July 12, 2019
Obiturary for Retired Region 8 Representative Roy Thomas

Obiturary for Mary Rogers, Mother of UAW Region 8 Rep Jim Rogers
Click Here For Details
July 09, 2019
Tennessee Labor-Management Conference
September 18 – 20, 2019
Embassy Suites
Murfreesboro, TN For more information: http://tlmf.us/conferences.html
J

June 15, 2018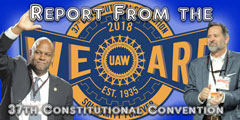 New Region 8
Director Mitchell Smith
2018 International Union
Executive Board

Building Our Unions and
Protecting Our Communities
Welcome to the UAW Region 8 website. The International Union, United Automobile, Aerospace and Agricultural Implement Workers of America (UAW) is one of the largest and most diverse unions in North America, with members in virtually every sector of the economy.

UAW-represented workplaces range from multinational corporations, small manufacturers and state and local governments to colleges and universities, hospitals and private non-profit organizations.

The International Union is broken down into nine regions. Region 8 includes 40,000 members in the states of Tennessee, Virginia, West Virginia, North Carolina, South Carolina, Mississippi, Alabama, Georgia, Kentucky, Florida, the District of Columbia, Maryland, Delawareand the following counties of Pennsylvania: Franklin, Cumberland, Adams, York.

Mitchell Smith is the Director of Region 8.
Tim Smith is the Assistant Director of Region 8.

The purpose to the Region 8 website is to tell the public:
It is also designed to share information between our members

Follow any of the links above to begin learning more about us.
Email Us
Region Office
Read a welcome from our Director Mitchell Smith.



UAW Region 8
151 Maddox-Simpson Parkway
Lebanon, TN 37090-5345
TEL: (615) 443-7654
FAX: (615) 443-7697

UAW Region 8 Baltimore Sub Regional Office
1101 North Point Boulevard
Suite 131
Baltimore, Maryland 21224

Telephone: (410) 342-1740