Building Our Unions and
Protecting Our Communities
Welcome to the UAW Region 8 website. The International Union, United Automobile, Aerospace and Agricultural Implement Workers of America (UAW) is one of the largest and most diverse unions in North America, with members in virtually every sector of the economy.
UAW-represented workplaces range from multinational corporations, small manufacturers and state and local governments to colleges and universities, hospitals and private non-profit organizations.
The International Union is broken down into eight regions. Region 8 includes 40,000 members in the states of Tennessee, Virginia, West Virginia, North Carolina, South Carolina, Mississippi, Alabama, Georgia, Kentucky, Florida, the District of Columbia, Maryland, Delaware, Arizona, Colorado, California, New Mexico, Arkansas, Texas, Louisiana, Oklahoma, Utah and the following counties of Pennsylvania: Franklin, Cumberland, Adams, York.
Mitchell Smith is the Director of Region 8.
Tim Smith is the Assistant Director of Region 8.

The purpose to the Region 8 website is to tell the public:
Email Us
Region Office
Read a welcome from our Director Mitchell Smith.


Region Offices
UAW Region 8
151 Maddox-Simpson Parkway
Lebanon, TN 37090-5345
TEL: (615) 443-7654
FAX: (615) 443-7697
UAW Region 8 Baltimore Sub Regional Office
1101 North Point Boulevard
Suite 131
Baltimore, Maryland 21224
TEL: (410) 342-1740
UAW Region 8 Dallas Office
Eldorado Towers
8787 N Stemmons FWY Suite 350
Dallas, Texas 75247
TEL: 214-267-6550
Fax:214-267-6565
UAW Region 8 Sub Regional Office
6500 S. Rosemead Blvd.
Pico Rivera, CA 90660
TEL: 562-801-1500
Fax: 562-801-1555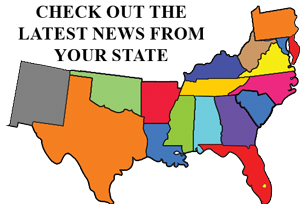 Latest News From Region 8

August 13, 2022
Korean Trade Unionist Released
August 09, 2022
Obiturary for Alan Keesee, Local 2850 President
July 29, 2022
Day Four Report from the 38th
Constitutional Convention
Day Four Photos
Region 8 Nominates Next Region Director
July 27, 2022
Day Three 38th Constitutional Convention Report
Day Three Photos
July 26, 2022
Day Two 38th Constitutional Convention
Representative Debbie Dingell Addresses Delegates
Day Two Photos
July 25, 2022
The 38th Constitutional Convention Begins
Day One Photos
July 21, 2022
UAW Participates in NAACP National Convention
July 15, 2022
Kentucky AFL-CIO News - Our UAW made Buick just took us, trouble free, the equivalent of three round trips by air from New York to London, with nearly 1,200 miles to spare
EASTERN KENTUCKY UAW RETIRED WORKERS COUNCIL Summer Newsletter
July 14, 2022
UAW Region 8 Director Mitchell Smith Joins Local 2850 Members on the Picket Line
July 12, 2022
UAW Local 2850 Members Standing Strong
July 10, 2022
Strike Continues at Local 2850
July 07, 2022
Region 8 Leadership Visits Local 2069
July 6, 2022
UAW Local 2850 On Strike
July 05, 2022
Region 8 Families Participate in the UAW Family Education Scholarship Program
July 04, 2022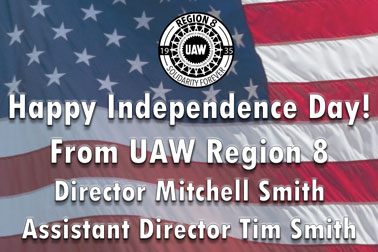 July 1, 2022
Ford Representatives Give Update on Blue Oval City
June 30, 2022
Local 862 Sponsors Bats Pride Night
June 26, 2022
Region 8 Holds Grievance Handling Class
June 22, 2022
Kentucky Sheriff's Boys and Girls Ranch Summer Camp
June 21, 2022
Statement on Changes to COVID-19 Protocols after Meeting of the COVID-19 Joint Task Force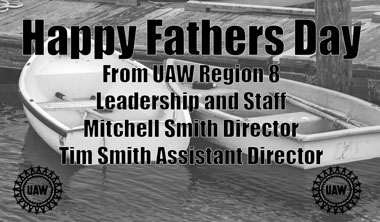 June 10, 2022
Report from the Southwest States CAP Meeting
Obiturary for Local 3047 Member Lance Tanner Lee Winemiller
June 7, 2022
UAW Increases Weekly Strike Pay to $400
UAW President Ray Curry's Statement On UAW Priorities Heading Into 38th Constitutional Convention
June 6, 2022
Local 2195 June Retiree Report
June 2, 2022
UAW Commends Ford Motor Company's Announcement on Adding Jobs and Converting 3,000 UAW Members to Permanent, Full-Time Status with Benefits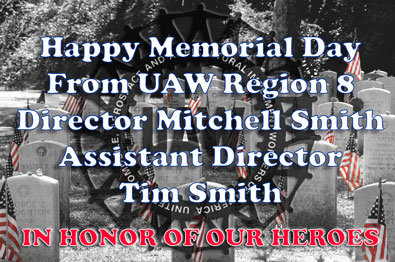 May 26, 2022
Sun Valley Retirees 2nd Quarter Newsletter
Local 862 Chaplaincy Committee Host United In Solidarity Community Meeting
May 24, 2022
New Officers for Region 8 Arkansas, Louisiana, Oklahoma, & Texas Area Women's Council and Next Talk About It Wednesday Planned
May 19, 2022
2022 CAP Conference Day Four
2022 CAP Conference Photos Day Four
Eastern Carolina Retiree Council Appreciation Awards
Local 862 Retiree Appreciation Day
May 17, 2022
2022 UAW CAP Conference Day Three
2022 UAW CAP Conference Day Three Photos
May 16, 2022
2022 CAP Conference Day Two
Photos from 2022 CAP Conference Day Two
May 15, 2022
2022 CAP Conference Begins
Photos From 2022 CAP Conference Day One
May 12, 2002
UAW Region 8 Leadership Meeting Day Three
May 11, 2022
UAW Region 8 Leadership Day Two
The UAW Remembers Walter Reuther 52 Years After His Passing

May 10, 2022
Local 862 President Todd Dunn
Receives Ford Oval of Honor
May 8, 2022
Region 8 group at the Chaplaincy Conference at Black Lake this past week.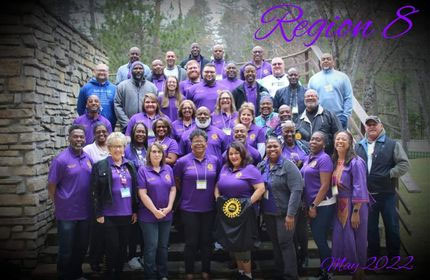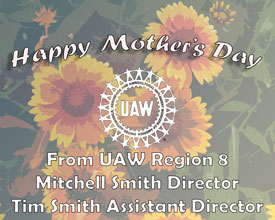 May 6, 2022
Mark Liburdi Memorial Golf Outing and Banquet
May 5, 2022
UAW Region 8 Retired Workers Conference Day 3
Region 8 AD Tim Smith Tours Mack/Volvo Jacksonville, Florida
May 2, 2022
UAW Members at CNHi Strike for Improved Standard of Living, Retirement Benefits and a Better Work Environment
April 29, 2022
Update From the UAW Educational Conference at Black Lake
April 28, 2022
UAW, NRDC File Joint Lawsuit Against USPS Over Controversial Oshkosh Defense Truck Contract
University of California Members Protest Pay and Policies
April 27, 2022
Worker Memorial Day Message From Director Smith