UAW Region 8 Assistant Director Tim Smith
Tim Smith was appointed by Director Ray Curry to Assistant Director June 2018.
Tim was hired as a machine operator in November 1987 at Dana in Franklin, Kentucky. The plant was organized and UAW Local 2370 was chartered in March 1997.
From 1997 to 2008, UAW Local 2370 members elected Tim to serve in numerous positions; including Alternate Steward, Committeeman for two terms, President and he also served on the Bylaws Committee. Tim has served on the Kentucky AFL-CIO Executive Board and was appointed to the South-Central Kentucky Workforce Developing Board that served ten counties in Kentucky. He has also been active in CAP and the Retired Workers' Councils.
Tim was appointed by then Region 3's Director Mo Davison in January of 2008 as an International Representative. He was assigned as a servicing representative in Region 3 included automotive and numerous automotive supplier locations (Dana, GM, Waste Management, IAC, Metalsa, Rane Precision Diecasting, and Rocore Thermal Systems) in Kentucky.
As part of the UAW restructuring of Region 3, Tim was appointed as a servicing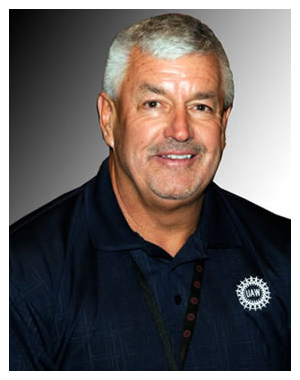 representative in March 2012 by then Director Gary Casteel of Region 8. His Region 8 assignment as a servicing representative in included automotive and numerous supplier locations (GMCCA, Fisk University, Carlex Glass, TRW, Hennessey, Cummins, Transtar, Faurecia, and Siemens). Tim was responsible for collective bargaining, arbitration, political action and other bargaining assignments. Tim also served as the Veterans Liaison for Region 8.
Tim is a 1980 graduate Russellville High School in Russellville, Kentucky and was a member of the first Russellville Football State Championship team. He enjoys golfing, fishing and boating.
Tim is a member of Crittenden Drive Church of Christ. He has two children; Zach Smith and Aeron Smith and lives in Bowling Green, Kentucky.