July 29, 2022
UAW Region 8 Holds Nominations for Region Director-
Tim Smith Elected by Acclimation
Last year the UAW conducted a referendum on the elections of International Executive Board. The election changed the way IEB positions are elected. Beginning this year, UAW President, Secretary Treasurer, Vice-Presidents and Regional Director will be elected by mail in ballots.
The nominations for these positions were made at the 38th Constitutional Convention. On Wednesday nominations were made for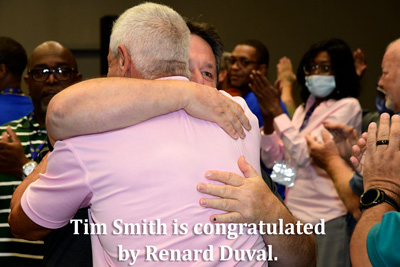 President, Secretary Treasurer and Vice Presidents. On Thursday morning each region had break out meetings for nominations for regional director. Nominations must be made by elected delegates and the nominees must be a member in good standing and belong to a Region 8 local.
Region 8 Director Mitchell Smith is retiring at the end of the year and was not running for reelection. UAW Region 8 Assistant Director as to be vetted by the monitor as a candidate.
The Region 8 Delegates assembled and UAW President Ray Curry came in along with UAW Region 8 Director and read the monitor's rules for elections, as a representative for the monitor was in attendance. President Curry opened the floor for nominations. A candidate could be nominated by two individuals. Renard Duvall Local 3047 of Elizabethtown, Kentucky raised his hand and nominated Tim Smith for UAW Region 8 Director. Brother Duvall recalled Tim Smith working to organize their local. Next was Local 862 President Todd Dunn who stepped forward to nominate Tim Smith as well calling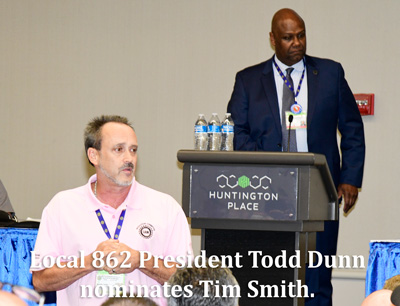 him the leader the region needed.
UAW President Ray Curry asked for more nomination and no one stepped forward. After three calls President Curry announced nominations closed, leaving Tim Smith the only candidate for Region 8 Director. Tim Smith stepped forward to accept the nomination, making him the next director of Region 8.