Constitutional Changes Passed on Tuesday June 03, 2014
With an eye toward upcoming contract negotiations in auto and other industries and getting our union's financial house in order, delegates at the 36th UAW Constitutional Convention overwhelmingly approved changing the dues structure, eliminating a region and one vice president position, and establishing a Voluntary Employee Beneficiary Association (VEBA) for the union's current and future retiree health care.
Delegates approved raising dues from two hours of straight-time pay per month to two and one-half hours, the first change in the dues structure since 1967. The dues increase represents an additional $10 per month for the average member and generates an additional $45 million per year, all of which goes to the strike fund, which was renamed by delegates as the International Union Strike and Defense Fund.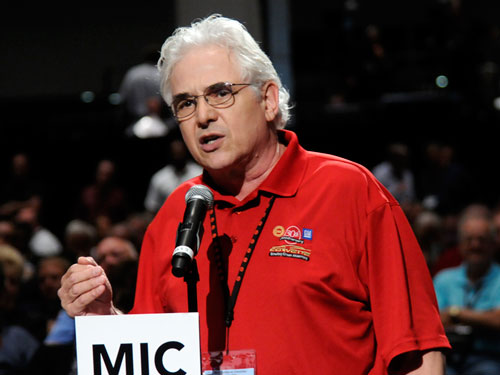 "I look at my dues as an investment in my future – not as a line item on my paycheck," said delegate Dean Poggiali, president of Local 724 in Lansing, Michigan.
The change in the dues structure was necessitated in part by a drop in the value of the union's strike fund, as well as diversions of $25 million in each of the last four years to the general fund. The dues increase, coupled with numerous cost-cutting initiatives, will help the International send a message to employers in upcoming negotiations that the union is serious about restoring benefits lost in previous contracts when the domestic auto industry was near collapse.
"Don't you think the companies are looking to see if we have a healthy strike fund or not," said Mark Dicklow, president of Local 140 in Warren, Michigan. "With a depleted strike fund, we are going to be very vulnerable."
Added Steve Gajewski, a delegate from Local 2162 in Reno, Nevada: "Having a low strike fund only puts a target on our backs."
Harold Brown, a delegate from Local 602 in Lansing, Michigan, said: "I believe that in order to move forward in the future, we must arm out leaders with something to fight with. You wouldn't send a soldier into battle without any bullets. ... I refuse to send my leaders into battle to fight for two-tier workers without any bullets."
With the new name of the International Union Strike and Defense Fund, members without a legal right to strike – such as State of Michigan workers – have the opportunity to contribute to and receive protections from the fund.
"It is extremely important that we be able to fund campaigns in the public sector for good contracts," said Maida Rosenstein, president of Local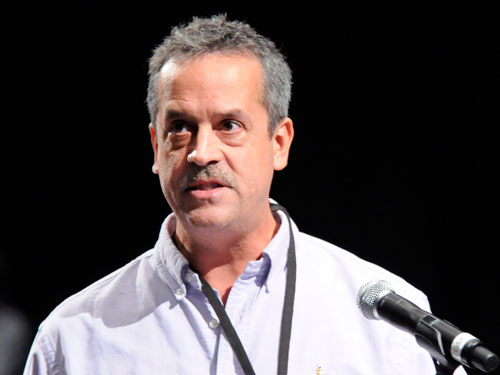 2110 in New York.
Delegates also approved a one-time $25 million transfer from the strike fund to implement restructuring initiatives and have a modest safety net as it enters 2015 contract negotiations, but following that the transfers will cease, and the additional half-hour of dues will be dedicated to the fund.
Jim Stanton, a delegate and financial secretary from Local 1112, in Warren, Michigan, credited the International Executive Board (IEB) for making "an unprecedented effort" to get the information about the dues increase out ahead of the convention so they understood the issues. Steven Pryor, a delegate from Local 211 in Defiance, Ohio, said PRO-Member, the union's two-way conversation with members about participation, resources and organizing, was crucial.
"It's a tool we have to use to get more information back to the members," Pryor said.
Rebecca Watson, a delegate from Local 1268 in Belvedere, Illinois, said she was initially against the dues increase, but changed her mind after receiving more information. Delegates, she said, were elected to do the right thing by members.
"We have to have a strong base to build a proper structure," Watson said. "If you want to get rid of two-tier wages, we have to have a strong base."
Delegates also voted to consolidate regions 1C and 1D, saving the union millions in administrative expenses. With the merger, the UAW will now have nine regions – 1, 1A, 1D, 2B, 4, 5, 8, 9 and 9A.
Delegates also voted to eliminate one vice president position. Having three instead of four vice presidents will also save the union money in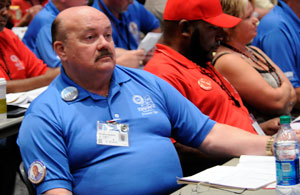 salaries and other expenses.
Much like retirees from the domestic automakers, retirees of the UAW will now receive their health care through a VEBA. The move is expected to save the union $16 million in annual expenses. To fund the VEBA, delegates approved a transfer of $85 million from the Emergency Operations Fund to the newly created VEBA trust. Many other cost-cutting moves are in progress or being planned.
In other changes, delegates voted to:
Raise voluntary retiree dues from $2 to $3 a month.

Eliminate the automatic mailing of Solidarity magazine following the July-August issue to save on printing costs. Beginning in July, members may submit a request via email or U.S. Mail to receive the print version of the magazine. The online version remains available on uaw.org as a flipbook.

Approve a measure to drop the membership on the Public Review Board from five to four members and reappointed four PRB members: Janice R. Bellace, chairperson; Maria L. Ontiveros; Fred Feinstein and Harry C. Katz.