Day Four of the 36th International UAW Constitutional Convention
By UAW Region 8 Webmaster John Davis
The final day of the 36th International UAW Constitutional Convention began with President Bob King reading the official results of the IEB elections into the official record.
Retiring UAW President called President's Emeritus Owen Beiber and Ron Gettelfinger to the stage to assistance in the oath of the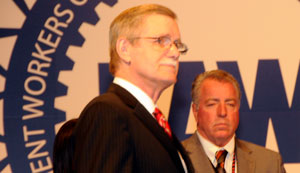 office for the new International Executive Board. The oath of office was administered to thundering applause and the new officers took their places.
Next President Dennis Williams came forth to introduce the next speaker who came to the conference via video. "President Barrack has been a friend of mine and a friend of yours for many years. From his humble beginnings to attending college on scholarships, President Obama has dedicated his life to helping others. I first met him in the days when he was running for the Illinois state legislature. And watched as he fought for ethics reform and tax cuts for working families. Brothers and sisters it is my honor to introduce our friend President Barack Obama."
"I want to thank retiring UAW President Bob King for his efforts for American workers," President Obama stated. "Today the auto industry is healthy again and union workers are churning out some of the best vehicles in the world. Bon has been a relentless advocate for worker and human rights and he leaves big shoes to fill. I can't think of a better person to follow Bob than my good friend Dennis Williams. I have had the pleasure of knowing Dennis many years and he is a tireless worker and organizer and I wish him and you the very best."
Next Teamsters President Jimmy Hoffa, Jr. addressed the convention. "It is my honor to be here with you today," President Hoffa stated. "We know there are those out there who would attack us such as the Koch Brothers and the Limbaugh's of the world. The reason is we are the only voice for the middle class. It is labor that supports the working class and are the stalwart that consistently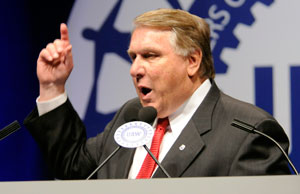 battle to make sure all working Americans have a place at the table. I am proud to say the UAW and Teamsters work together for our members and all working Americans. We will stand with the UAW as they fight for their members and we appreciate your support."
Following President Hoffa the business of debating resolutions continued, with the first resolution being aimed at support for our veterans. The resolution stated "We owe it to our service men and women and our nation's veterans to honor their service and do everything within our power to return them home safely. This is the least we can do to repay our troops for their service."
Following the debate the convention watched a video produced by the UAW PR Department showing President Bob King and Secretary Treasurer Dennis Williams placing a wreath at the grave of the Unknown Soldier in Washington, D.C.
The next resolution dealt with discrimination in the workplace. The UAW has a long standing position of opposing discrimination in the workplace- all types of discrimination and this resolution discussed. 

Newly elected UAW President Dennis Williams came forward to present his opening address as president. ""It's humbling. I'm excited for our union. I feel the energy, the power of our unity, I'm looking forward to the challenges we have," President Williams stated.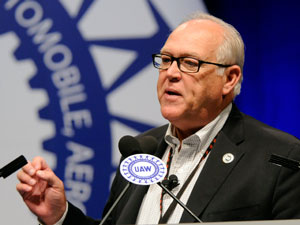 "We have allowed labels to divide us too long. I don't believe in labels. I believe in America that those seeking a better life can seek dignity and respect. I believe in a fair wage for a fair days work. Does that make me liberal or conservative? I believe in everyone's right to health care. Does that make me a liberal or conservative? I am hunter and believe in our rights to own a firearm. However, I do believe in regulation and background checks. Does that make me a liberal or conservative? I believe in a worker's right to organize. Does that make me a liberal or conservative? I believe in a strong military to protect democracy from aggression, but I don't believe in us being the aggressor. Does that make me a liberal or conservative? I believe in a balanced budget but I don't believe in balancing it on the backs of the poor and hungry children. Does that make me a liberal or conservative? I am neither a liberal nor a conservative- I am a trade unionist."
"We have started Pro-Member to begin a dialog with our members. We want to hear what they think. Back in Region 4 they will tell I have a slogan that I use over and over that says we shouldn't be doing anything we can't tell the membership about. I want to be open and honest. Our members have given enough and we will support them and represent them. We have news for these companies – no more concessions."
The motion was made to accept the remainder of the resolutions as written. The motion was passed as UAW Vice-President Norwood Jewell introduced the final speaker Michigan Chapter NAACP President Rev. Wendell Anthony. Rev. Anthony delivered an inspiring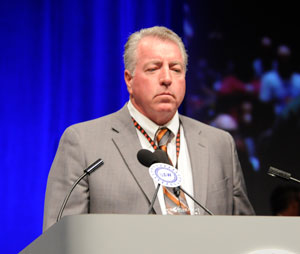 message stressing this is our time to do the right thing.
President Williams accepted a nomination to adjourn the conference and the delegates crossed the street to support striking workers at the Crowne Plaza Hotel.