Workers Memorial Day:
Take charge of your health and safety
04/27/12
As Workers Memorial Day approaches on April 28, the UAW Health and Safety Department reminds all workers that they need to take an active role in their own health and safety.
"We know that we're the best advocates for our own health and safety," said UAW President Bob King. "In addition to the strong health and safety gains we've accomplished at the bargaining table, we know that workers who take an active, engaged approach to health and safety have the power to create a worksite where workers leave the plant in the same condition that they arrived."
Here are some general things all of us can do to improve health and safety in our worksites and throughout America.
Get a baseline test for hearing, breathing. But don't get those tests right after you've just pulled a 10-hour shift in a noisy and chemical-laden environment. Noise has a measurable short-term effect on hearing. The same theory applies to chemicals. You may get chrome in your body from food or cigarettes but you may get chrome in your body from grinding on an air plane wing or running a chrome plating tank. So when a doctor asks for a sample, they need to know your baseline.
The only way to determine if work exposure is a source of the chrome is to get a baseline assessment after several days of no exposure, especially if the doctor takes a urine sample. A pulmonary function test that measures lung capacity and checks for restriction in the airways or obstructions after work will only tell the doctor what he needs to know if he has the test results for the same test applied before work exposure happens.
The best method for determining how work affects your health is to compare how you feel, hear and breathe after working with how you feel when you have not been in that environment – like when you're on vacation or otherwise away from the worksite. Go to your doctor and get a good thorough checkup when you've been away from the worksite for a while. This way your doctor can get a good baseline of your overall health to compare from if you develop early symptoms of exposure or major health problems.
Don't work alone or in the dark, nor up high without proper restraints. The problems here are self-explanatory. What happens if a worker has a heart attack or accident while working alone? It is Ok to be afraid of the dark. Working in the dark, whether on a loading dock, in a parking lot, or in a confined space exposes us to unseen hazards. And never be "unclipped" while working at heights.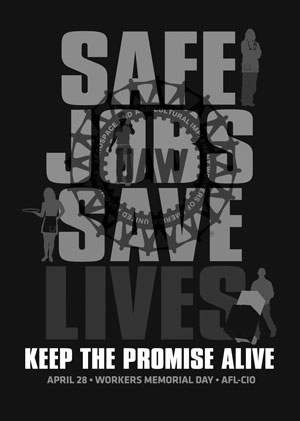 Don't try to work alone solving health and safety problems. Many times safety representatives try to take on the world. It's a poor safety culture that puts the burden on a few. Get everyone involved.
Don't just blame behavior. Many consultants are selling safety systems that create incentives to under-report or misreport health and safety problems. Union organizations and engineers have put together a model program for how companies of all sizes should solve health and safety problems. This is published by ANSI ( Ansi Z-10 read the article by Fred Manuele here.
Don't treat people like robots or robots like people. Our bodies break down from repetitive motion. Is there a way to prevent that or reduce that? And just because a machine appears to be powered down, doesn't mean it won't cycle unexpectedly. Make sure it's locked out. If you find yourself in a robot cell and do not have the pendant in your hand and training on the pendant, or the key to the lock to the main disconnect, get out and find the safety expert. Explain what you are doing. Make sure it is safe.
Gravity is a law of nature. What comes up, will eventually -- through age, deterioration, lack of proper maintenance, bad luck or other factors – come down. Take a look at your surroundings. Is there anything unsafe above your head? Is there a guardrail and safe platform in place for all the work you do at heights? Unfortunately, safe ladder standards are under attack in Michigan. Here is the standard.
If you really knew what that chemical does inside your body, you'd want better gloves and more fresh air. Personal protective gear and ventilation are key here, as is knowing exactly what you are working with. And remember that there are plenty of dangerous chemicals inside offices as well as manufacturing plants. Unfortunately ventilation regulations aren't what they should be. In Michigan, regulators are on the verge of deleting a major ventilation provision that protects workers and the environment.
OSHA standards are old; negotiate new ones. While the health and safety focus of the federal government has improved somewhat since the change from the let-industry-do-what-it wants days of the Bush administration, OSHA standards ought to be the low mark. As a union we negotiate for the safest possible workplace, not just to meet minimal standards. In Michigan, the UAW helped shepherd 18 new proposed exposure limits. With a stroke of the pen, Gov. Rich Snyder has destroyed several years of hard work by a panel of experts.

Ask a lot of questions of your safety managers, doctors, and OSHA inspectors and take notes. It's always a good idea to keep those who are supposed to help keep you safe and healthy on their toes. Their response to your health and safety issues is likely to be more responsive if they know you are concerned, documenting everything, and willing to press the issue.
Workers have a right to a workplace free of hazards. Fight for it. If you see something, say something to your local health and safety representative.
Related:
Seven UAW members lost their lives on the job in 2011. (March-April 2012 Solidarity, Page 11).
UAW says it's time for action on Workers Memorial Day.
Find a Workers Memorial Day event near you.