May 15, 2022
The 2022 CAP Conference Begins
by Region 8 Webmaster John Davis
The 2022 Community Action Program (CAP) Conference began on Sunday May, 15, 2022 at the Gaylord Resort in National Harbor, Maryland. The CAP Conference returned after a two year hiatus because of the worldwide COVID pandemic.
As the conference begins, there are many issues facing working families. The PRO Act is currently being considered in Washington. In the current climate, workers are faced with an uphill battle as they try to organize. Companies force workers to watch anti-union videos, fire workers that lead organizing drives and annually spend over a billion dollars on anti-union activities. It has been 85 years since Congress has passed any significant labor laws. Because of this union membership has declined from 20.1% in 1983 to just 11% today and just 6.3% in the private sector.
Electric Vehicles are coming and coming fast. The House has passed the Build Back Better Act that creates incentives for consumers who purchase domestically and union built EVs and batteries. Now we need the Senate to take up and pass the bill.
Another important part of the Build Back Better Act is a provision that allows Medicare to negotiate the price of prescription drugs. It is impossible to grasp the fact that Medicare cant negotiate with pharmaceutical companies for lower prices. In a time when the drug companies can charge anything they want, the fact that Medicare cant negotiate to bring down drug prices makes no sense.
Lastly we need a tax law that insures the wealthy pay their fair share. Billionaires are flying to space while working Americans pay a higher tax rate while struggling to survive. The Build Back Better Act includes provisions to close these loopholes and force the wealthy to pay their fair share.
Currently the Striking Workers Health Care Protection Act is being championed by Representative Cynthia Axne of Iowa and Senator Sherrod Brown of Ohio. This legislation would prevent employers from terminating employer provided health care for workers engaged in a lawful strike.
The CAP Conference was called to order by National CAP Director LaChandra White. Following introductions and the presentation of the colors, Region 8 Director Mitchell Smith welcomed everyone to Region 8 and introduced Brother Neils Chapman who provided the invocation for the evening.
CAP Delegates viewed a special video honoring our past president. Watch the video here.

National CAP Director LaChandra White returned to the podium to introduce the keynote speaker of the evening International UAW President Ray Curry. UAW President Ray Curry challenged delegates to remember that the duty of a UAW member is to vote: not just in local, state and federal elections, but also in institutional elections. Last fall, our union mailed out 1.2 million ballots for the referendum vote and only 143,000 were returned. Later this year, election ballots will be mailed out again and members must honor their oath and vote to determine our future, he said. Similarly, this November we will have stark choices presented and our members must show up at the polls to support candidates who support our union in federal and state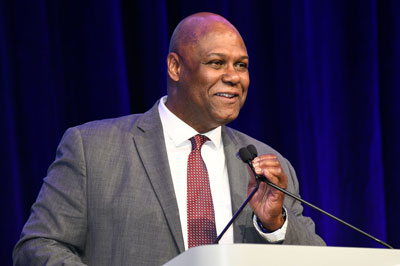 elections.
Our history is full of moments that shape who we are today. President Curry reminded delegates of what could have happened had we not fought to help our major employers like Chrysler restructure. Or what might have happened if we hadn't elected representatives such as Michigan's Governor Frank Murphy who remained neutral during the GM Sit-Down Strike. "We do not repeat history by not voting," he said to applause. To hear President Curry's entire speech, click here.
The conference adjourned until Monday morning when participants will hear from a number of speakers and then participate in workshops in the afternoon.