July 26, 2022
Remarks From US Congressional Representative Debbie Dingle
(the following remarks are paraphrased)
One of labor's strongest advocates in Washington, D.C. is Michigan Congress member Debbi Dingle. Representative Dingle is the widow of former Representative John Dingle of Michigan, another strong advocate of labor. UAW Region 1A Director Laura Dickerson introduced Representative Dingle.
"I am proud to be with here today," Representative Dingle stated. "During the pandemic I missed getting to visit union halls across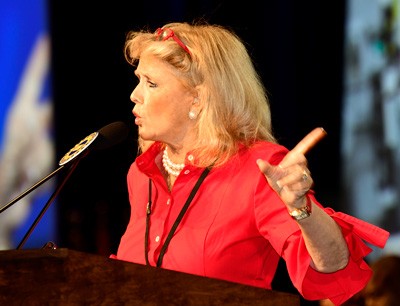 my district and hearing from members. This morning I met some members from New York and it is encouraging to know that members share the same concerns across the country.
Detroit is the city that put the world on wheels, and now you will lead the way in this next transition of transportation. I can tell you, your leadership is out there fighting to make sure the next wave of vehicles will be made in America with good paying union jobs.
At this time we are still facing significant supply chain issues as a result of the pandemic. GM and Ford both have vehicles parked all over Detroit and across the country awaiting chips. We used to make 40% of the chips made in this country. Today that number is down to 10-12%. The transitions to EV will require more chips, so we have to move faster to get chip manufacturing back in this country.
We have to make sure these jobs return to America. In Washington we are working on a bill to bring chip manufacturing back. We owe it to the American workers. The dependence on the global market has made us vulnerable as an industry and a nation. The pandemic has amplified this issue. We need to return these jobs to America and make sure they are good paying union jobs. Negotiating for workers helps all workers- not just those represented by a union. 40 hour work week, overtime pay, employer provided health care are all examples of things American workers can thank unions for whether or not they belong to a union. As you win victories, it places pressure on non-union workplaces to follow suit.
My late husband John Dingle was a good friend of Walter Reuther. Walter used to say it is not enough to just fight against the things we do not believe in- we must also fight just as hard for the things we DO believe in. This is more important than ever.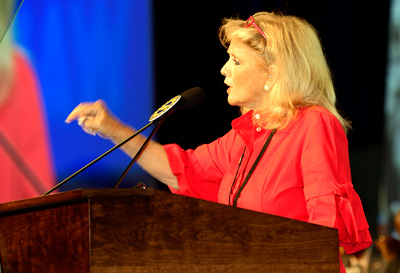 As we move forward with the transition in the automotive market, it is important that workers have a voice at the table. I am proud to be a sponsor of the Pro Act, the single most important bill for organizing in over 80 years. We know the benefits of unions and we must make it easier for workers to organize. We are stronger we when are together. All across this country there are factions that are trying to divide us- only when we stand together can our voices be heard.