June 16, 2010
Day 3 Report from the 35th International UAW Constitutional Convention
Text and photos by UAW Region 8 Webmaster John Davis
Day three of the 35th International Constitutional Convention began at 9:00 AM on Wednesday June 16, 2010. The major purpose of this day was to elect the International Executive Board, including the president,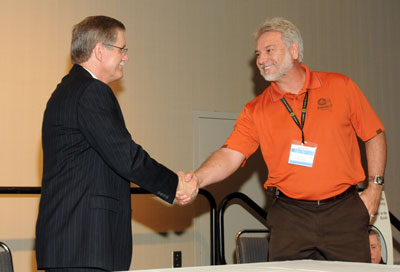 secretary/treasurer, four vice-presidents, eleven region directors and one trustee position. The UAW is a democratic organization and holds open elections every four years to elect the International Officers. Each local union is assigned delegates based on the size of their membership, to insure that voting delegates represent the makeup of each local union. These delegates are elected by their local union memberships and attend the convention to represent their members. Just as the Electoral College elects the President of the United States based on the votes in their district, these delegates represent their memberships.
The morning began with representatives from the March of Dimes presenting the membership of the UAW with recognition for their support of the March of Dimes. Then the retiring members of the International Executive Board were recognized.
Following those presentations UAW President Ron Gettelfinger opened the floor for nominations for president.

UAW Vice-President Bob King and Gary Walkowicz and bargaining committee person from Local 600 from Ford in Dearborn, Michigan. Each accepted nomination for election.
Region 4 Director Dennis Williams was nominated for the office of Secretary-Treasurer. There were no other nominations for the office and was elected by acclimation. The  floor was then opened for nominations for vice-president. UAW Vice-President James Settles was nominated for reelection along with Vice-President General Holiefield. Region 9 Director Joe Ashton was nominated for Vice-President along with International Representative Cindy Estrada. No other nominations were made and those four were elected by acclimation. There was one open seat on the International Trustees. UAW Local 862 President Phyllis Blust from Region 2B was nominated. There were no more nominations and she was elected by acclimation.
Following the nominations the convention floor then proceeded into a roll call vote for the office of president. The voting began by roll call going in numeric number. Each local could either cast all their votes in a block or the delegates could vote individually. The election proceeded with the final total being 2115 for Bob King and 71 for Walkowicz. Bob King will be sworn on as the next President of the UAW on Thursday, June 17, 2010.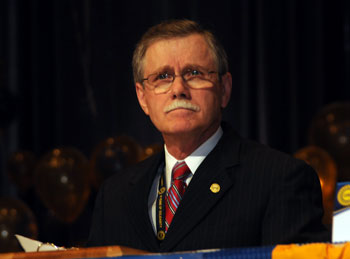 Following the international elections each region broke to individual rooms to hold elections for their respective regional director. The delegates of Region 8 reelected Director Gary Casteel for a third term as regional director.  Director Casteel issued the following statement concerning his election:
"I am both honored and humbled to be elected to a third term as Director of Region 8. Our region provides both opportunities and challenges. Downsizing in the domestic automotive industry has hit our region hard. However, at the same time we have seen a number of the transplants locate to the 12 states that make up Region 8. Over the past eight years we have won a number of organizing victories in our region and many opportunities remain. We have momentum – both politically and in our movement. We have to maintain this momentum and build ok it. I feel fortunate to be a part of this great region, this great staff and this great union."
Ray Curry was named as Region 8 Assistant Director, replacing Joe Rypkowski who is retiring.