UAW President Dennis Williams Addresses 36th UAW Constitutional Convention- Makes Assignments
Corporate America is failing in its responsibility to its workers and the nation and is failing at it, newly elected UAW President Dennis Williams told delegates in his keynote address on the final day of the 36th UAW Constitutional Convention.
"Brothers and sisters, companies around the globe are making billions and billions. Too many times they reward themselves and leave their employees little to survive on," Williams said.
"It's time to bridge the gap. It's time to lift up people. It's time for each and every one of us to tell our corporations: No more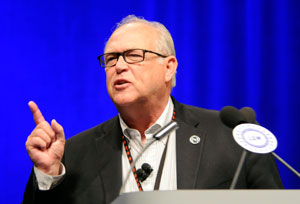 concessions," the UAW's 11th president said. "We are tired of it. Enough's enough!"
Our Congress also has a responsibility, to respond to the needs of the people, including passing a jobs bill, he told delegates.
At present, it is "handcuffed by extremists" who are preventing working people from getting ahead.
"We all want the same thing. We want to put America back to work. A 7 percent employment (rate) is too high. We need bridges. We need schools. We need roads. We need a high-speed rail. It's time to bring America back to work!
"Here in the United States of America we have always had a strong economy when the middle class was growing, lifting people out of poverty," he said. "When unions were thriving and people were making gains at the bargaining table, everybody did better. Everybody gains. They did better because people had disposable income. They could buy the car they built. They could buy a house. They could save for college and retirement.
If people truly want their country back, it's time to stand up, take on the challenge, have a collective voice. America, rise up! Join a union! Get in the fight!
Unfortunately, many of our political leaders are too busy playing "the name game" instead of focusing on peoples' needs. Williams eschewed political labels, saying he's for a balanced budget, but not at the expense of hungry children, the poor or seniors on fixed incomes. He's for a strong defense, but not for leaders who would involve us in unnecessary conflicts. He hunts and own guns, but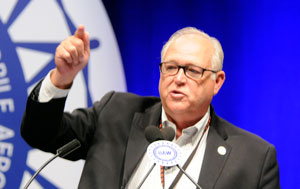 believes reasonable rules should be in place.
"So there I am. I'm not a liberal. I'm not a conservative. I'm a trade unionist," Williams said to a standing ovation.
And as a trade unionist, he knows how critical it is to listen to the membership. It's one reason why PRO-Member was started. He related a story from early in his long career of union activism:
After winning a local election, a union brother gave him a book and asked him to read one sentence.
So he did. It read:
"To be a great leader, you have to be an excellent listener."
It's a lesson that stuck with the former salvage welder at J.I. Case from his days at Local 806 all the way up to this week. He told delegates he intends to keep listening, even though sometimes what members have to say may be painful to hear.
"Brothers and sisters, what our union is doing right now is we're listening," he said. "We want to rebuild this union in a way that gives pride to the UAW members and a sense of community."
He encouraged UAW activists to engage with members, and added we cannot be good stewards of the union if we cannot communicate and educate.
"If you can't talk to our members about what we are doing, perhaps we shouldn't be doing it," Williams said.
The new president took time to recognize former presidents of the union who persevered through their own difficult challenges. He thanked retiring leaders, including outgoing President Bob King, as well as his family, saying the union is grateful for his leadership and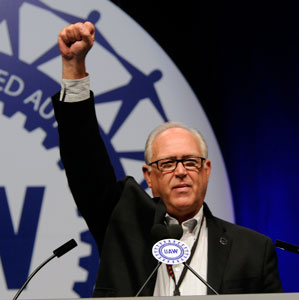 commitment to our movement.
"Your spirit, your dedication, your passion for the cause inspired all of us. Thank you so much," Williams said. "We all appreciate the solidarity you have built here at home as well as around the world. You opened new doors, forged new friendships and relationships with workers and unions around the globe.
"We know you will continue even though you have retired because really, that's who Bob is," Williams said.
I think you will agree that we have had a spirited convention. As all of this convention's open and democratic debates have shown, our members – like most Americans – are tired of economic inequality and want to return to the equality and social justice that is the beating heart of our union. Our members, every man and woman, are united in their desire to build both workplaces and a country where economic equality is at the center of our lives.
"The first word in the UAW's name is "United" and that is not an accident. Unity and solidarity define our union. Our members are united in the struggle for justice and for a middle class standard of living, both in UAW workplaces and in society at large. Our members know the gaps in justice that exist both in our organized shops and in the non-organized sector of UAW industries. Unity and solidarity means that every day the UAW and its members struggle to bridge these gaps in justice. We do this through collective bargaining. We do this in our organizing efforts. And we do this through social and political action. As UAW's newly elected president, I pledge to work every day in solidarity with our members and with my fellow Board members to bridge the gaps in justice that exist both in our workplaces and society. These gaps in justice call out for fundamental change, and the UAW is once again ready to lead.
Williams Announces Assignments
"Solidarity will define our new leadership team. Each of our new officers and Board members has risen through the ranks as workers for economic and social justice. Our new officer team will each focus on diverse assignments, but we all will work together in pursuit of the common goals our members have set for us at this convention.
"I would like to introduce our new officers and announce their assignments:
Secretary-Treasurer Gary Casteel – UAW finances, Transnational Organizing, Mitsubishi Motors
Vice-President Jimmy Settles – Ford Motor Company and Aerospace
Vice-President Cindy Estrada – General Motors Corporation and Independents, Parts and Suppliers
Vice-President Norwood Jewell – Chrysler Group LLC, Agricultural Implement, Heavy Truck and General Dynamics
"UAW's Technical, Office and Professional work will be retained by the President's Office. And all our officers and executive board members will work as a team on organizing the unorganized.
"We are ready to get to work as a team, with our members, to achieve the goals our members have set for themselves and us at this great, open and democratic convention."
Vince Piscopo