Retiring President Urges Delegates To Continue To Rebuild In Farewell Speech
Everything President Bob King has tried to accomplish in his 40-plus years as a UAW member and leader can be boiled down to trying to rebuild the power our members have at the bargaining table. It's a simple equation: More power equals better contracts, which equals more justice.
We've seen what happens when we have awesome power: We've won just contracts and advanced the American middle class. When our power is diminished, as it is when nonunion companies undercut our wages and benefits, undesirable results happen, such as two- and three-tier wages and increased use of temporary workers.
Far-right extremists such as the Koch Brothers and others have made it exceptionally difficult on working Americans. They don't believe workers should have decent pay, defined-benefit pensions or job security, President King told delegates in his 22-munite farewell speech at the 36th UAW Constitutional Convention in Detroit.
"If we are really honest with ourselves, we're in a war for the American middle class. We're in a war I believe for democracy in America – I don't think you have a democracy without a strong middle class," King said. "By every measure of social justice, working families are losing. Their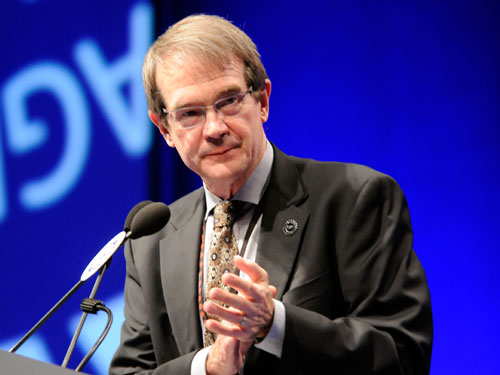 middle class standard of living is being decimated."
The question for the UAW is how do we rebuild our power to fight anti-union extremists and win better contracts and more justice for our members and organize the unorganized. We've already begun, President King said. In 2011, during the national auto negotiations, the UAW made a commitment to seek jobs and investment to keep our power from diminishing even further. Some 230,000 new direct auto jobs coupled with $20 13 billion in investments in new plants helps our union look toward the future, especially 2015 auto negotiations.
Also critical to rebuilding our power is re-energizing our membership by participating in marches and rallies. These mobilization actions have helped workers win UAW representation at places such as Piston Automotive in Toledo, Ohio, and Kace Logistics in Detroit. Both companies are in the process of negotiating first-ever contracts. The UAW has also started to re-energize members with PRO-Member, which details how the UAW will move forward by increasing participation, having the resources needed to stand up to companies, and through organizing. We're happy that members are talking about the future of this union. "I think the future leadership of this union will take that to a much higher level," he said.
President King also said building coalitions among other groups has helped the UAW and the groups it has partnered with. Our support for immigration reform, civil rights, the environment and other issues dovetails with the goals of other social justice groups.
"We are excited and optimistic because I see a broad social justice movement coming together," he said. As example, he said the Sierra Club Executive Director Michael Brune – who will address delegates Wednesday -- wrote a letter to Nissan CEO Carlos Ghosn telling him how outraged he was about the automaker's denial of rights to its workers in Mississippi and Tennessee.
"He believes core to democracy in the United States is the right to organize and collectively bargain," King said. The UAW cannot simply be a national union and fight global corporations. Our global solidarity with unions around the world is critical to building power. In 2011 auto bargaining, the UAW at Ford won the first global framework agreement with a United States company. Such agreements provide workers a measure of assurance that the company will follow internationally recognized labor standards. It also bargained a global information sharing network where union leaders from all over the world meet to discuss common concerns, and then meet with the company.
The UAW has strengthened its relationships with these corporations that respect workers' right to organize and collectively bargain. While ongoing labor issues may exist at these companies, there is also a great deal of creative problem-solving happening.
"We want to show and demonstrate – which we do every day – that having a union workforce is a competitive advantage, not a competitive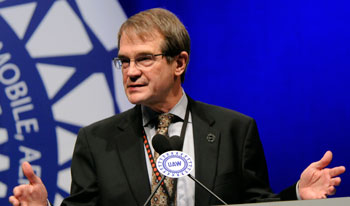 disadvantage," he said.
The most important component of building power is building density in a particular industry. But feedback received from PRO-Member showed some members were upset by the amount of money spent on organizing. Our leaders have to work harder to make sure members understand how critical organizing is to our future.
Local 31's Jorge Rodriguez, the shop chairman at General Motor's Fairfax Assembly facility, said, "This is the convention that's going to change the way we strategize. It's time we get our house in order and battle the challenges we have today."
President King said the most important investment we can make for our current members is to have a strategy and plan and resources to organize their competition.
Without organizing the competition, it becomes harder to win the justice our members deserve. Through organizing nonunion workers, we can bring their wages up, not bargain our wages to theirs.
"We all believe in equal pay for equal work. That's a core value of the UAW," King said to applause. "To me, to say you want to end entry-level or you want to get traditional members a raise who haven't had one in a long time or you want to do better for retirees, but you say you're not going to support building more power in the union, whether it's through organizing, whether it's through global work or the dues increase or whatever, then you are not being honest with yourself and you are not being honest with the membership."
President King also took time to thank his secretary, LaDon Hill, Executive Administrative Assistant Wendy Fields-Jacobs, and his family, including wife Mo Fitzsimmons, for their support over the years.
"She and my five kids have been so tremendously supportive over the years," King said. "My family has been there behind me and I deeply, deeply appreciate them."
Vince Piscopo and Gwynne Marie Irvin