Veterans Communication May 2011...
Southwest Virginia Veterans Cemetery Dedication Ceremony...
May 6th, was a very special day that carried many emotions for Teresa King and Mark Peterson from the local's Veterans Committee as they attended the dedication of the Southwest Virginia Veterans Cemetery in Dublin. The morning was full of excitement and filled with a sense of accomplishment as finally this 5 year project was fulfilled and finally veterans from our end of the state would have place of honor and tranquility as their final resting place. 
This piece of now hallowed ground  already has a locally historic significance as ammunition was made here in the 1940's for our armed forces during WWII, now it will be a place to honor the sacrifice of our veterans and pay tribute to the men and women who have served our nation. It will be a reminder of the sacrifices for our freedom.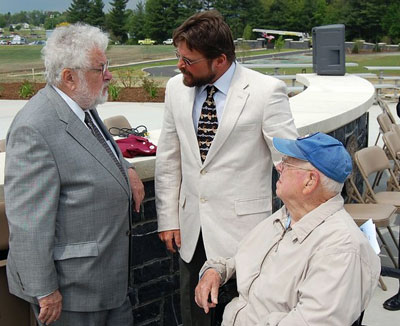 The ceremony itself was very dignifying, as veterans from all around this end of the state were present. We rekindled spirits with many veterans from all era's, I saw many people that some I had not seen in years. Many of them, at one time or another, we had done some work with and it was warming to know they were still around and many still working for veterans.
The guest speakers and representatives were very impressive and very humbled. Master of Ceremonies, Adrian Cronauer,  whom the 1988 movie "Good Morning Vietnam" was based upon was outstanding and I was very proud when he mention our local union's veterans committee. Although many dignitaries were present for the dedication Mayor of Dublin, Benny Skeens said it best, "the most important people here today are the veterans and their families.
Paul Galanti, commissioner of the Virginia Dept. of Veterans Services, is a good friend of a good friend of mine, it was a real honor and a privilege to meet him and talk. Mr. Galanti, was a Air Force pilot in Vietnam, flew 97 combat missions before being shot down and becoming a 7 year American Prisoner of War at the infamous Hanio Hilton complex. Galanti at Hiliton, served with men like, Admiral John Mc Cain, Colonel Robbie Risner, Ted Guy and Commander Jim Stockdale. My conversation with Mr. Galanti is something I'll never forget and I'm so thankful for the opportunity given to me.
Our good friend and State Senator John Edwards was in attendance and it was a pleasure talking to him as well. Senator Edwards was thrilled to know the Ride for Freedom is in its 20th year, as he had spoken twice before at our ceremony kicking off the Ride for Freedom at the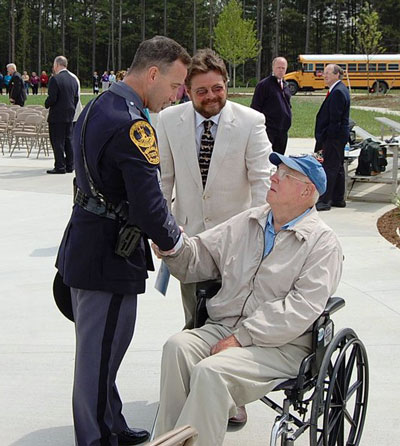 union hall.
It was also very pleasing to hear the beautiful voice of Amy Hall, daughter of Jerry Hall who works in our dyno. Her voice brought chills and goose bumps to everyone opening the ceremony with the National Anthem.
Thank you again for this opportunity!!!
UAW Veterans Ride for Freedom... Alright... it's right on us the...the 20th Anniversary of the Ride for Freedom!!!, although I state this with some excitement, we remember why...
I first think... wouldn't it be great to think there was no need for such a patriotic spectacle, if there wasn't a need to have to gather such a crowd to be seen, if we didn't have to be so loud to have our voices heard, if there was no need to defend what has been earned, if only we had real peace on earth.
Wouldn't it be wonderful if all nations worked together, wouldn't it be wonderful if there was no intolerance of differences, wouldn't be wonderful if all nations could trust each other and wouldn't it be wonderful if all people loved each other. Wouldn't it be a wonderful world...
Well, we know that's just not the case, and as long as history repeats itself, as long as there is tyranny and oppression, as long as there is jealousy and greed, there will be a need to defend freedom and we will have a need to have the caliber of men and women willing to defend it. With this comes sacrifice, too often physical, too often mental, too often life or limb. Very often families are involved and often families are destroyed. Too often there is homelessness.
Memorial Day is our most sacred day as a united nation to honor, too remember, too cherish memories of loved ones and comrades, to say your sacrifice was not in vain, to say I am worthy of your life, your sacrifice and your families. It is a day in which we take time to reflect.
Too bad everyday isn't treated like Memorial Day, too bad were so busy, too bad were so complacent, too bad were not interested, too bad were not motivated,  too bad we forget.
This is why we do what we do, why we fight the fight, why we sing our song, why we stand tall of those willing to take the call, why we call their bluff, why we don't just shut up.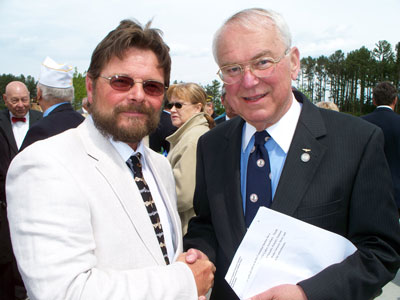 We ride and we work all year, trying to make a difference, trying to teach, we preach We want to spark a spark, to motivate, we dedicate, we want to help, we want to hit a home run, we want your kid home, , we want to  heal, we won't let them steal and there should be no deals.
Wouldn't it be great if there was no cause to take this stand for the men and women who defend our land. We ride for those who can't, the mission is simple but not always so easy. We sincerely appreciate those who take the time, those who make an effort and for those who take a stand.