Memorial Day 2012...
May 17, 2012
It is never over. Missions may end but the legacies left and the pain of their absence endure.
By the time our last remaining troops returned from Iraq in December 2011, nearly 4,500 of their comrades lost their lives during Operations Iraqi Freedom and New Dawn.
We continue to lose American heroes every day in Afghanistan and in military training accidents and missions around the world. The loss to their families, friends, fellow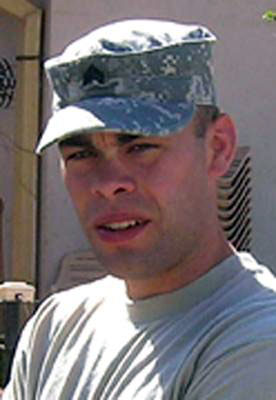 service members and country is permanent.
Some were only teenagers and most of those killed were under age 25. In the eyes of their loved ones, they are forever young. Remembering our fallen once a year is not enough. The widows, widowers, fathers, mothers, brothers, sisters and children remember EVERYDAY.
The empty seat at the dinner table, the smaller gathering on Thanksgiving, and the voice of a loved one heard only as a distant memory are constant reminders that they are gone. But there are also people who can enjoy time with their families because of the sacrifices that others have made.
Scripture tells us that "Greater love hath no man than this, that a man lay down his life for his friends." Army Staff Sergeant, Michael Dooley epitomized this. A 23-year-old native of Pulaski VA., Dooley was manning a traffic control point in Al Asad, Iraq when a vehicle came up to the checkpoint and two individuals got out requesting a medic for their sick friend. Immediately following the request for help, they opened fire on Dooley which resulted in his death. Dooley was promoted to Staff Sergeant the day before he died.
From the American Revolution to the Global War on Terrorism, one million American men and women like Sergeant Dooley have made the Supreme Sacrifice. They died so that we could continue to cherish the things they loved ---God, country and family.  That is why we gather on Memorial Day…to honor the memory of our fallen warriors who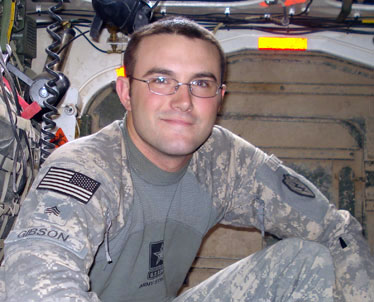 have given everything for their country.
We are also reminded on this day that in each generation, brave men and women will always step forward to take the oath of allegiance as members of America's armed forces, willing to fight and if necessary die, for the sake of freedom.
In reflecting on the sacrifices of their comrades as to why Americans so often in the past and still to this day answer their nation's call – even to the point of sacrificing their lives. A war veteran may say
They do it to provide a strong national defense --- to keep America safe and secure against those enemies who would destroy our American way of life. 
They do it for their fellow comrades…for those fighting by their side against all odds and for those who eventually separate from the military but proudly claim their status as veterans.
They do it for American core values of God and country --- family, patriotism and our religious heritage.
They do it for their children…so that they can grow up in an America that is strong and free.
It is through this last pillar - children…that we can continue the spirit of Memorial Day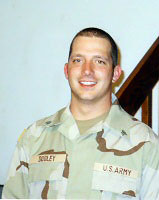 each and every day.

An IED explodes on a convoy in Iraq. A soldier is killed. On the other side of the world, hearts are broken as the family is notified. Staff Sergeant Jesse Ault, 28, of Dublin, Virginia, lost his life on April 9, 2008 in Baghdad, Iraq, from wounds suffered in Tunnis, Iraq, when his vehicle encountered an improvised explosive device. His unit is due home May 11.
Jesse left behind  a young loving wife, the mother of his two children, Rachel who wasn't quite 3 months old and Adam who was only 15 months old.
More than 6,400 American men and women have died in Afghanistan and Iraq in the latest wars. Many were parents.  The innocence of their grieving children will be challenged by the dramatic change affecting the balance of security and comfort in their family routine. Their hearts will feel the sharp sting of their loss, leaving them only with memories of their loving mom or dad. Life as they have known it will be much harder from now on.
There are many tangible things we can do to honor the service of our fallen heroes. First and foremost, is to take care of their families.
Memorial Day is not about picnics and parades – although, there is nothing wrong with enjoying and celebrating our American way of life. But Memorial Day is really about remembering those who made our way of life possible. 
On August 10,2008, a  young Sergeant Kenneth Gibson of Christiansburg Va,  was in Tarmiyah, Iraq, while moving civilians he believed were too close to a US cordon around a bomb, twin suicide bombers attacked. Kenneth was killed on spot and two other US soldiers were injured, as many as 17 Iraqis were killed, Those killed include policemen, toddlers, teens and women. Kenneth graduated from Christiansburg High School in 2001.
This Memorial Day, remember why... say a prayer for the families...keep them in your hearts... remember the supreme sacrifice all year long.
"Lest I keep my complacent way I must remember somewhere out there a person died for me today. As long as there must be war, I ask and I must answer was I worth dying for?"
-Eleanor Roosevelt