They Have Good Sense To Get Out Of The Rain
But Local 1853 Members Choose To March For Babies Anyway
Dozens of Local 1853 members braved the wet April drizzle and near record-breaking cold on a Saturday to show their support and participate in the annual Maury County March of Dimes Walk America.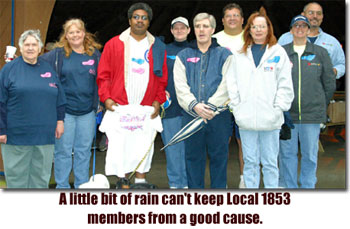 The Walk America is the culmination of numerous fundraising events where participants show their support by walking a two-mile set course through Woodland Park in Columbia.
Sponsored by the Local 1853 Community Action Program Committee, the UAW's efforts were joined with other groups throughout Maury County to raise funds for research to help prevent premature births. Similar events took place in counties all across America during the same time frame to raise funds and awareness for the March of Dimes.
After the Walk America, Local 1853 member and Tennessee State CAP Chairman Guy Z. Derryberry presented a check for $500 to the March of Dimes Community Director Amy Cudabac from the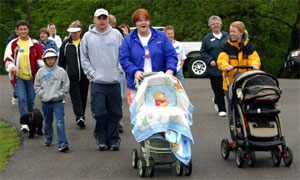 Tennessee State CAP Council.

"This check, along with $500 matching funds from UAW Local 1853 and $2,038 collected by CAP Committee members from all Local 1853 members in a gate collection, represents a significant percent of the funds raised in Maury County to fight premature births," Derryberry said.
"The goal in Maury County this year was to raise $30,000. We met that goal thanks to our CAP committee and the goodwill of a lot of UAW members," he said.