'Golden Chip Off The Old Block'
Rep. Ford Speaks To Local 737 Retirees
They came. They heard. And they cheered loudly as Tennessee 9th District Democratic U.S. Rep. Harold Ford, Jr., told the April monthly meeting of retired Local 737 members about his vision for creating a better quality of life for Tennessee and America.
Ford spoke and answered questions for 40 minutes to some 225 members, retirees and guests including Region 8 Director Gary Casteel, Tennessee AFL-CIO President Jerry Lee, Tennessee AFL-CIO Financial Secretary Treasurer Eddie Bryan and several leaders from the Davidson County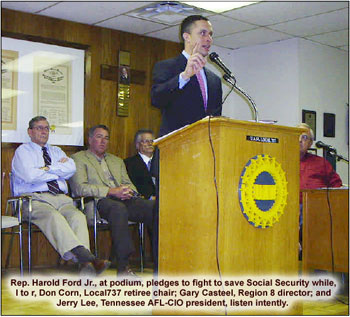 Democratic Party.
Rep. Ford was introduced by Retiree Chapter Chairman Don Corn who called Ford "a golden chip off the old block" and compared young Ford to his father Harold Ford, Sr., Democratic congressman from the 9th District for many years.
"This Ford, like his father has always been there for key organized labor votes. There's no doubt in my mind that he will be there for us in the future," Corn said. Ford will, undoubtedly, be a labor favorite when the U. S. Senate seat now being held by hospital corporation family member, Bill Frist, is vacated next year. Frist, a millionaire Republican, recently cast his lot with right-wing, Christian conservatives in order to gain their support in his bid to run for president of the United States in 2008.
Ford has been vocal for the past several months against the Bush administration's attempt to tamper with Social Security benefits. The congressman told the West Nashville audience that we must "keep our eye on the ball" when we look at all programs that protect America's working men, working women and our most precious commodity, our senior citizens".
He also spoke of his fears regarding China and India's cheap labor, under funding of Medicare, military bases being closed and our staggering national debt that the Bush administration refuses to acknowledge.
Ford concluded his Nashville trip by visiting a local talk TV and radio show and attending a Social Security rally on the steps of the State Capitol.
Don Corn
Local 737 Retiree Chapter chair