What Organized Labor Means To Me
By Brian Goldsmith
On the eve of World War II, my great - grandmother, Regina Grebler, came to this country with little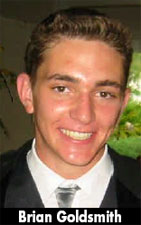 more than the clothes on her back.
Unable to speak much English and sponsored for immigration by a kindly friend of a distant relation, Regina arrived in New York with her eight year old daughter, my Grandma Carla. The rest of her family, including her husband, her parents, her aunts, her uncles, and their families, were left dead in Europe, killed in the Nazi concentration camps. My great-grandmother and my grandma arrived in the United States, alone in a new country, with nothing but their lives.
Despite the difficulties of learning a new language and beginning life alone in a new country, Regina found steadfast help from an unexpected location. She took on a job as a seamstress, doing "piece-work" in a factory in New York.
When she began working there, Regina became a member of the International Ladies Garment Workers Union (ILGWU), an organization that would be her pillar of support throughout the remainder of her life and the bedrock that made it possible for all future generations of our family to thrive in this country.
No matter what happened to my great grandma, the ILGWU was always there to support her. "Her union," as Regina called the ILGWU, never turned its back on her and was always there to ensure her safety, job security, health, and well being.
"Her union" was a guiding force in her life and an invaluable friend to her and our family for the nearly 50 years from the day Regina joined until the day she died. Her ILGWU membership assured my great grandmother of top-flight medical and dental care, including prescription drugs and specialty physicians and surgeons, which enabled her to win a mid-life battle with breast cancer and survive well into her eighties. Even in retirement, the ILGWU provided Regina with ongoing medical benefits, which she otherwise never could have afforded.
Despite the objections and complaints of some nay sayers, Regina would never speak or allow anyone in her presence to speak a bad word about "her union" or any other union. My great-grandmother sharply objected to any opposition to organized labor, a tenet that my family, including present day union members, and I continue to adhere to today.
For me, a strong organized labor network is invaluable. When my family most needed help and support, organized labor was there to provide both. Not only did it protect Regina's job, it also provided a sisterhood for her to find new friends and make a new life.
The emotional support of the ILGWU was essential to her ability to adapt to life in a new country. Regina needed a support network and she needed job security, and organized labor provided both. To this day, my family and I remain indebted to organized labor for the help provided by the ILGWU to my great-grandmother.
We remain staunch supporters of organized labor unions that continue to provide a better life for millions of Americans.
Brian Goldsmith was this year's 1st place essay scholarship winner for the state of Florida. A 2005 graduate of the Pine View School for the Gifted, Brian will be attending Yale University in the fall. Great- Grandma Regina would surely be proud.