04-29-2013
Region 8 Retired Workers Meet
Under beautiful skies in Treasure Island, FL on Monday, April 22, 2013 under the direction of Gary Casteel, Region 8 Director the Retired Workers Conference opened with representatives from all twelve states that stretches from Delaware to Florida along the east coast. Facilitating the Conference was Region 8 Retired Workers Coordinator Tom Savage.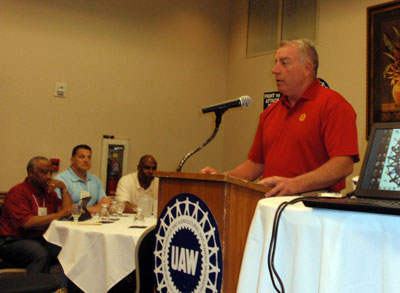 The delegates were honored to have UAW President Bob King address them on the first day of the conference. The four day conference was filled with speakers from their healthcare providers, UAW Social Security Department as well as Region 8 Education and Mobilization and Community Action Program Representatives.


On Wednesday, the delegates heard from Region 8 Director Gary Casteel and concluded the day with a banquet for the delegates and guests.


Assistant Director Ray Curry provided the daily guidance with the opening of the conference events with introductions and agenda items. He welcomed the Director of the Retired Workers Department,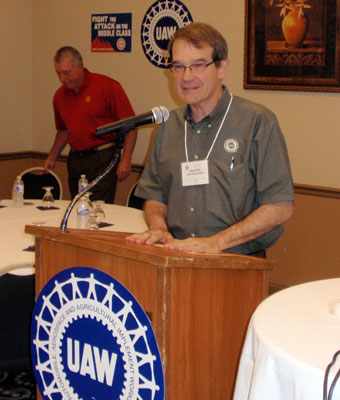 Warren Danford who spoke and conducted the elections for the Region 8 Retired Workers officers.
The results of the elections are listed below.


Region 8 Advisory Council Representative – Jim Stewart
Region 8 Council Chairperson – Zane Payne
Vice Chairperson – Grady Cook
Recording Secretary – Mary Briscoe
Financial Secretary – J.C. Phillips
Sergeant of Arms – Curtis Franklin