UAW Remembers Dr. Martin Luther King, Jr.
By Region 8 Webmaster John Davis
On January 17, 2005, America will observe the Dr. Martin Luther King, Jr. holiday. The holiday was passed into law on November 02, 1983 with the first observation taking place on January 20, 1986. Since that time, the third Monday in January has been set aside to remember Dr. King.
The United Auto Workers have long recognized the contributions that Dr. King made to working class Americans. UAW President Walter Reuther took to the streets marching many times with Dr. King. UAW members across the country joined in the fight for civil rights, with Dr. King at the helm.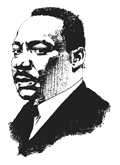 Dr. King was born January 15, 1929 in Atlanta, Georgia and was the first son of Martin and Alberta King. He entered Morehouse College at the age of fifteen, after having skipped both the ninth and twelfth grade. After graduating from Morehouse he attended the Crozer Theological Seminar in Chester, Pennsylvania and completed his PhD. from Boston University in 1955. With his education Dr. King could have pursued a lucrative teaching career at a major university or concentrated on writing. But instead, he decided to go into the ministry and accepted the position as Pastor of the Dexter Avenue Baptist Church in Montgomery, Alabama.
On December 05, 1955 Rosa Parks refused to give up her seat on a Montgomery city bus and was arrested. Dr. King became involved with the movement that followed to desegregate Montgomery's bus system and gained national prominence as a speaker. He was elected as the President of the Montgomery Improvement Association and in 1956 the U.S. Supreme Court ruled that Alabama's segregation laws were unconstitutional.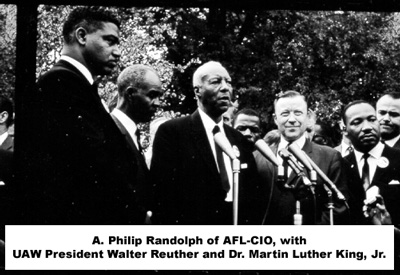 In 1957 Dr. King toured India to further develop his understanding of the non-violent strategies of Mohandas Gandhi. Dr. King strongly felt that the Gandhi's example of non-violent change could be used as a template for the struggle of blacks in America.
In 1959 he joined his father as Co-Pastor of the Ebenezer Baptist Church in Atlanta, Georgia. There he became more involved in the struggle for equal rights, growing his national statue all the while. He was a major player in the March for Jobs and Freedom in Washington, D.C. in 1963 as 250,000 gathered to listen to his famous "I Have A Dream" speech. At his side was UAW President Walter Reuther. Two years later, Walter and May Reuther joined Dr. King in Selma, Alabama for another march. Walter Reuther delivered a speech with Dr. King, standing atop a cane-bottomed chair. He told the crowd there, "The struggle will be carried on until every American can share in the blessings of human dignity. Let us take heart, our cause is just and human justice will prevail."
Dr. King's efforts were hindered by many groups, including the government and other members of the movement for African-American rights. His non-violent message conflicted with the self-defense and black nationalism teachings of Malcolm X and Stokely Carmichael. This brought Dr. King criticism within the movement. His criticism of the handling of the Vietnam War strained relations between Dr. King and President Lyndon Johnson, and increased FBI Director J. Edgar Hoover's efforts to undermine Dr. King. Even though these adversities he was named Time Magazine's Man of the Year in 1963 and won the Noble Peace Prize in 1964. It is very tragic that a person who touted non-violent change would die so violently in 1968. On the eve of his death he presented his "I've Been to the Mountaintop" speech to the sanitation workers in Memphis, urging the crowd to remember, "that the issue is injustice. When people get caught up with that which is right and they are willing to sacrifice for it, there is no stopping short of victory."
Dr. King's message is just as true today as it was in 1968. Injustice is injustice, regardless of the race, national origin, religion or creed a person holds. We as a people must decide to do what is right, whether we are affected or not. With his education, Dr. King could have lived a life of privilege regardless of his race. But, instead he choose to speak out for others and he had help along the way. Those such as UAW President Walter Reuther marched side-by-side with Dr. King with dreams of building a better world. As a people, we can never truly be free unless truth and justice for all is our goal.
On Monday, remember the man and the dream for this is what the day stands for.