Departments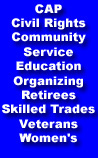 UAW Alabama-Mississippi Area Women's Council Essay Winners
The winners in the 2005 UAW Alabama-Mississippi Area Women's Council Essay contest were recently announced. For the past several years the Council has sponsored this essay contest to assist high school students in their quest for college money and to provide a venue for them to learn more about labor.
This year's topics for the contest were "Why we still need Unions" or "Pay Equity, Does it Exist?". A number of excellent essays were submitted with the judges being two college professors. The winners are:

1st Place- Summer Nicole Edwards
Guntersville High School
Guntersville, Alabama
$1000 scholarship

2nd Place - Amber Parker
Speake High School
Danville, Alabama
$600 scholarship

3rd Place - Joseph (Joe) Marsh
Hartselle High School
Hartselle, Alabama
$400 scholarship

From their inception, working men and women's unions have fought to establish the principle of free public education as a right, not a privilege. It is an honor to be part of this effort to further the education of young men and women in Alabama and Mississippi.